Jorge Posada's future is up in the air. No one knows where Posada will play next season, if he plays at all. But Joe Torre has a tough time seeing Posada playing anywhere but the Bronx.
Posada's Career In Pinstripes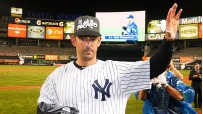 With Jorge Posada's run in the Bronx likely over, we look back at the Core Four member's career. Gallery

• 50 Greatest Yankees

Rank 'em
"It's really tough when you play with one team and create the relationships that he has all these years. It's probably going to be tough to think about going somewhere else," Torre said Tuesday at the ALS Association of Greater New York Chapter's annual Lou Gehrig awards benefit in Manhattan.
Posada said several times during the season that he would consider playing elsewhere after his four-year, $52.4 million contract ran out at the end of 2011.
Torre said that he was "tickled" watching Posada hit .429 in the ALDS.
"I was just very pleased that if indeed this is the end for him, as far as playing, that he has something very proud to look back on," said Torre.
With the Yankees wanting to open up the DH position as a place to rest Alex Rodriguez, Derek Jeter and others -- and with Jesus Montero's emergence -- the expectation is that Posada will not be offered a contract for 2012.
NO INTEREST IN MANAGING: Torre, who won four World Series titles with the Yankees, said he gets asked from time to time if he still wants to manage. He insisted on Tuesday that he has no desire to get back in the dugout.
"Nobody's made a call to me to ask me to manage," Torre said. "When I'm talking to people about other things, they may want to know if I'm still interested. I'm really not. Well, let's put it this way, I'm not. Because I don't want that to be misconstrued. I like what I'm doing."
Torre is MLB's executive vice president of baseball operations.