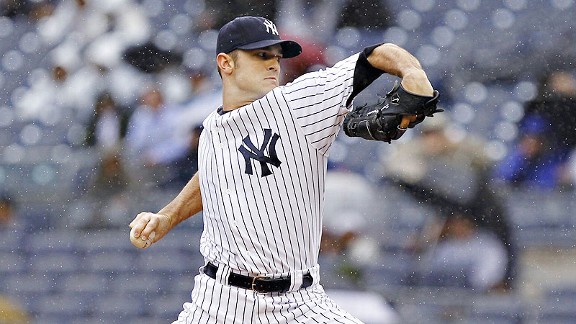 Michael L. Stein/US Presswire
Can David Robertson duplicate his success of 2011? We'll see.25 Questions, 25 Days: Day 11
Back to back! Belly to belly!
That is the question for David Robertson, who is the apparent heir to Mariano Rivera's closer throne. Can he be an All-Star two years in a row?
Robertson was good before 2011. In '11, he was great. Can he do it again?
"Can he hold up physically back-to-back years?" a rival GM said. "I know [Joe] Girardi handles the bullpen well, but that is the question."
Robertson, 26, was off-the-charts great last season. In the process, he sprinted by the $11 million seventh-inning guy, Rafael Soriano, and the now injured Joba Chamberlain. If he has another excellent season as the bridge to Rivera, he could own the whole bridge as soon as 2013.
Now, let's get to the part of this 25Q/25D where I tell you, I don't think Rivera is going to retire after this season if he pitches like he has always pitched. I know he is 42 years old and has talked about going home to be with his family. But he makes $17 million a year and seems to love what he is doing. Why would he walk away from that if he doesn't have to? If he does, it will be a most graceful, Rivera-esque ending to his career.
But if Rivera does go, Robertson has won the right to be The Man. Last year, he was 35-for-38 in holds/saves, which combined with a 1.08 ERA is fantastic.
Those are Rivera-like numbers. Actually, they are better than Rivera-like numbers. As our information man, Mark Simon, points out, Robertson was "[Dennis] Eckersley in the eighth inning." His 1.08 ERA was the fourth- best for a reliever since 1920, bettered only by Eckersley (0.61 in '90), Jonathan Papelbon (0.92 in '06) and Rollie Fingers (1.04 in '81).
Robertson might be more of a John Franco-like closer if ever given the job. The reason? He flirts with trouble. Last year, he earned the nickname of Houdini by dominating hitters with the bases loaded. He gave up one hit in 19 at-bats with the bases juiced.
He struck out 14 of those batters, which would be unbelievable if you didn't see it with your own eyes.
But here is the thing with Robertson -- he walked himself into a lot of those situations. Overall, he walked 4.7 batters per nine innings. It dropped to 3.4 after the All-Star Break. But Robertson was Rivera-like in avoiding homers.
Of 46 fly balls, he gave up just one home run, all year. J.J. Hardy's shot at the end of August was the only homer Robertson allowed in 66 2/3 innings.
So Robertson is the heir apparent. Here is the question: Do you think Mo will be back next year?
Tomorrow: Is this Nick Swisher's final year as a Yankee?