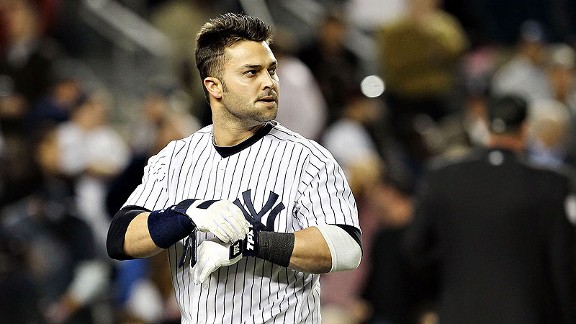 Jim McIsaac/Getty Images
Nick Swisher is entering the final year of his current Yankees contract.25 Questions, 25 Days: Day 12
In the winter of 2008, the Yankees' stats guru, Michael Fishman, entered GM Brian Cashman's office.
"Fish walks into my office and says, 'I think we have a great buy-low candidate,'" Cashman recalled. "'He just had an unlucky year.' I look at this guy and I say, 'Unlucky year?'"
The Yankees had tried to trade for Nick Swisher in 2007 when the Oakland A's were shopping him. Swisher, just 26 then, had hit .262 with 22 home runs and 78 RBIs. His on-base percentage was .381. Instead, the A's traded Swisher to the Chicago White Sox.
There, Swisher struggled on the field and off, fighting with then-White Sox manager Ozzie Guillen. He finished the 2008 season with a .219 batting average, 24 homers and 68 RBIs. But there was more to those numbers, as Fishman explained that Swisher's line-drive percentage, his batting average on balls in play and his take percentage, among other things, were just fine.
"Listen," Cashman recalled Fishman saying. "There are eight defenders on the field, sometimes you just hit them where they are. I'm telling you, as long as he is healthy, he is going to bounce back."
Cashman, with a huge assist from Fishman, has been proved correct. Getting Swisher for Wilson Betemit, Jeff Marquez and Jhonny Nunez has been a steal.
But what will Swisher's value be next year when he is expected to become a free agent?
Swisher, who will make $10.25 million this season, is playing for a new contract. It is a dicey proposition for him and the Yankees. Despite his postseason struggles, Swisher, 30, is a very good outfielder in relation to the rest of baseball.
Since he has become a Yankee, Swisher is one of just 15 players with an on-base average of at least .360 and 80 homers, according to our info man, Mark Simon. The other three outfielders are Jose Bautista, Ryan Braun and Jayson Werth.
Swisher will likely see himself in Werth's class. Werth is in the midst of his unfathomable seven-year, $126 million contract with the Nationals. There is basically no chance the Yankees will come near that.
That is the interesting aspect of Swisher's season and his impending free agency. The Yankees desperately want to get under the $189 million luxury tax by 2014, so Swisher will become an interesting case.
With a good year and finally some production in the playoffs, he could put pressure on the Yankees to make a deal in what will likely be a tough negotiation.
In free agency next year, Andre Ethier and Josh Hamilton could be on the market, but neither will likely be cheaper. Top outfield prospect Mason Williams is not expected to be ready by 2013.
So the guy they once viewed as a buy-low guy could be worth more to someone else than to them. Fishman is going to have to be looking at his spreadsheets overtime.
Here is the question: Do you think Swisher will be a Yankee at this time next year?
Tomorrow: A.J. Burnett, better than you think. Seriously.