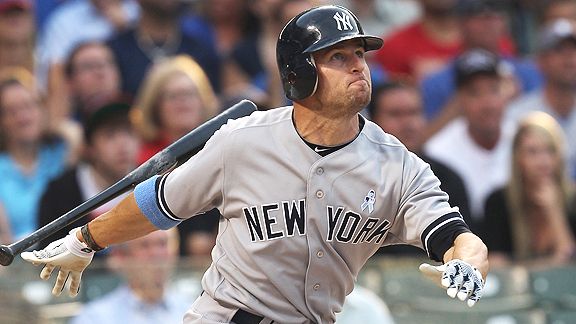 Jonathan Daniel/Getty Images
Brett Gardner should lead off vs. righties ... right?25 Questions, 25 Days: Day 10
On paper, this questions seems to be a no-brainer. Brett Gardner appears to have every attribute a baseball team could want in its leadoff hitter. He sees a ton of pitches, gets on base easily, steals often and goes from first to third better than practically anyone on the team. No matter who is hitting behind him, he is difficult to double up.
And a year ago at this time, the question of whether Gardner should displace Derek Jeter as the Yankees' leadoff hitter was one of the most hotly debated issues of the offseason. Jeter, after all, swings at almost anything, is no longer particularly speedy on the bases, and had -- in 2010, at least -- a disturbing tendency to hammer the ball into the ground, right at the shortstop. At 36 going on 37, he was no longer anyone's idea of a prototypical leadoff hitter.
But a funny thing happened once the season started, and particularly, after the All-Star break and Jeter's return from a calf injury. The "old man'' outhit the young man by nearly 40 points (.297-.259), struck out a dozen fewer times in nearly 40 more at-bats, and had an OBP 10 points higher (.355-.345). He even stole 16 bases, which while no match for Gardner's team-leading 49 steals, was third-best on the club.
And head to head as a leadoff hitter, Jeter's edge was even greater. Jeter's average from the 1-hole was .280, Gardner's .230; his OBP as a leadoff hitter was .337 to Gardner's .322.
Jeter was the first Yankees batter of the game 96 times in 2011; in 49 of those games, he reached base in his first at-bat, either by hit or walk, and scored 17 times. Gardner was the first Yankee hitter in 57 games; he reached base in his first at-bat just 14 times, although he did come around to score 11 times.
Despite their difference in Wins Above Replacement -- Jeter's was 2.3, Gardner's 5.1 according to FanGraphs, mostly because of his high defensive rating -- Jeter was the winner of this WAR, and the discussion has hardly been raised this winter.
The Yankees' best lineup last year seemed to be the one with Jeter leading off and Gardner hitting ninth.
And yet, there is a circumstance in which the Yankees might do better with Gardner batting first and Jeter second in 2012 -- when a right-hander is starting. In fact, that would probably cover close to two-thirds of the season.
The reason is that Gardner's OBP versus righties the last two seasons is significantly higher than Jeter's. In 2010 and 2011, Gardner's OBP vs. righties was .383 and .345, respectively; Jeter's was .316 and .329. And throughout his career, Jeter has been a slightly better hitter in the 2-hole, where for years he batted regularly. As a leadoff hitter, Jeter's career BA and OBP are .309/.379; they are .314/.385 as a No. 2 hitter. Plus, Gardner's speed should make it easier for him to steal against a right-handed pitcher.
Now, when a lefty is pitching, the numbers are reversed: Jeter's OBP's over the last two seasons (.391/.423) are better than Gardner's (.373/.344).
So the answer seems pretty simple: Gardner leads off, Jeter bats second when a righty is starting; Jeter leads off, Gardner bats ninth when a lefty is starting.
Of course, nothing is ever that simple around the Yankees, and there's no doubt that Joe Girardi will do his customary Hamlet routine when it comes time to make the call.
You, of course, are under no such constraints nor must you put yourself through that kind of mental agony.
All you have to do is fill up the comments section with your thoughts: Where do you think Brett Gardner and Derek Jeter should bat this season?
Tomorrow: Who will be the next Mariano?