Noah K. Murray/US Presswire
As improbable as it may sound, Alex Rodriguez has what it takes to lead ... on the field, at least.25 Questions, 25 Days: Day 20
Not a lot of statistical analysis today because this is one category not even the SaberGeeks have figured out a way to quantify: Namely, how do you define a clubhouse leader and who on the current Yankees roster is best qualified to fill the position in the post-Derek Jeter Era?
Yes, I know Jeter is still around, and likely will be through the 2014 season. (Remember, his new contract contains a player option for that season).
But clearly, the Yankees are a team in transition with the retirments in the past two years of Andy Pettitte and Jorge Posada, and the possibility that this could be the last season for Mariano Rivera. Someone will have to step into the void, and quite frankly, there are already indications that Jeter's influence is not quite a strong in the Yankees clubhouse as it once was, not surprising considering most of the old guard is gone.
So who will be the New Captain? (One need not, of course, formally have the title to assume the role).
A-Rod's Place In Pinstripes?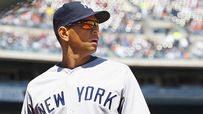 Alex Rodriguez is no stranger to controversy, but he's also one of the all-time Yankees. Where does he rank?
ESPN NY's Top 50 Yanks

VoteAssuming it must be an everyday player -- starting pitchers, of course, work once every five days and most of them are pretty scarce around the clubhouse in between starts -- I am eliminating CC Sabathia, although I recognize his role as a strong, mature clubhouse presence is real.
I also tend to discount Russell Martin, who certainly has leadership qualities but has only been a Yankee for one season and may not be one for many more after this one. My guess is it will come from one of the infielders, either Mark Teixeira, Robinson Cano or, believe it or not, Alex Rodriguez.
In fact A-Rod would be my choice for several reasons. He has already been here longer than anyone other than Rivera or Jeter, and barring a career-ending injury will be around a whole lot longer. Six more seasons, to be exact.
For another, for all the highly-publicized frivolity of his private life, he is respected in the clubhouse as an intense competitor and perhaps the hardest worker on the team. And lately, especially last season when Jeter was on the disabled list with a calf injury, Rodriguez seemed to go out of his way to assume a leadership-type role on the club, even -- to the amusement of the Yankees beat crew which had become accustomed to the compulsive media-avoidance of his earlier seasons here -- volunteering to translae for some of the Spanish-speaking players.
And whatever you may think of his personality or the way he chooses to display it publicly, A-Rod also possesses a remarkable ability to break down the fine points of the game, both to reporters and his teammates. His knowledge and love of baseball is beyond question.
A lot of people, I'm sure, will see this as a sign of the Apocalypse -- that the torch could be passed from Derek Jeter, the ultimate team-first Yankee, to Alex Rodriguez, whose image is quite different. (You fill in the blanks). And the role of Clubhouse Leader or Captain, if you will, in many ways is overrated and largely symbolic.
Still many players, especially young players, look to the veterans not only for tips on how to play but how to behave and, in the Yankees' case, how to win.
Right now I can't see a better candidate for them to look to than Alex Rodriguez, at least for the period of the day when he is at work.
But how do you see it? Is A-Rod a worthy successor to Derek Jeter, or should the Yankees be looking for someone else to step into some pretty large shoes?
Tomorrow: Are you ready for Joey Looseleafs. Year Five?