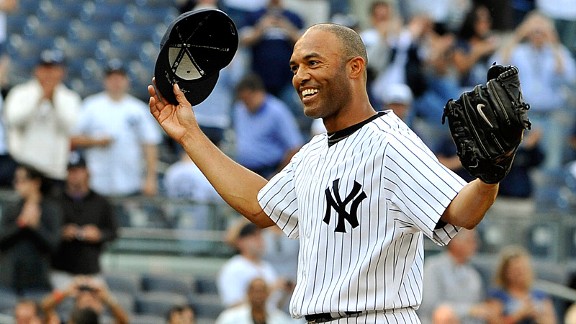 AP Photo/Kathy Kmonicek
Mariano Rivera still has the magic ... but for how long?25 Questions, 25 Days: Day 24
For the past 15 seasons, it has not even been open to question: If the Yankees take a lead into the ninth inning, Mariano Rivera will safeguard it.
And last year, Rivera was as good as he has ever been in his career, despite being at an age (41) where few ballplayers, let alone closers, have ever been anywhere near the top of their games.
But then, Mariano Rivera has never been subject to measurement by the yardsticks used by mere mortals.
His 2011, if not as overpowering as 2010, was nevertheless transcendent: 44 saves in 49 chances, a 1.91 ERA, a stingy .211 OBA. Remarkably, nearly half the batters he faced either struck out or hit an infield fly, the two best outcomes a pitcher can hope for after he lets go of the baseball.
All of these were better than any other pitcher on the Yankees staff with the exception of one, and that is good news: Mo's OBA was bettered by David Robertson (.169), whose combined strikeout/infield-fly percentage was a team-high 51 percent, all of which supports the belief of many, including myself and Andrew Marchand, that D-Rob is the likeliest candidate to succeed Mariano as the Yankees' closer.
The question is, when will a succession be necessary?
By the numbers, the day to start looking for Mariano's replacement doesn't seem to be very close.
But by the history, it might be a lot closer than Yankees fans care to think. Of the top 10 closers in baseball history -- ranked, rather inefficiently, by number of saves -- Rivera is doing his job at an age when every one of them was either retired or in serious decline.
Mo turned 42 in November. The closer he leapfrogged for the all-time saves lead last year, Trevor Hoffman, saved 10 games as a 42-year-old, but blew five others and lost his job. The rest -- Lee Smith, John Franco, Billy Wagner, Jeff Reardon, Troy Percival, Randy Myers and Hall of Famers Dennis Eckersley, Rollie Fingers and Goose Gossage -- posted a total of three saves beyond their 40th birthdays, two by Franco and one by Eckersley.
So Mariano is clearly entering largely uncharted waters as we enter 2012, the final year of his current contract. With the exception of some muscle soreness that kept him -- conveniently? -- out of last year's All-Star Game, he has remained generally healthy, and while he has lost about 2 mph off his fastball and a mile-and-half off his cutter, most nights he seems as uncomfortable an at-bat as ever.
But the question must be asked: Is it still fair or realistic to expect Mariano Rivera to continue doing his job at a phenomenally high level at an age when most of his peers have taken to the rocking chair?
Let us know what you think, and why, in the comments section.
Tomorrow: We wrap up 25Q/25D with the most important question of all -- are the 2012 Yankees better than the 2011 Yankees?