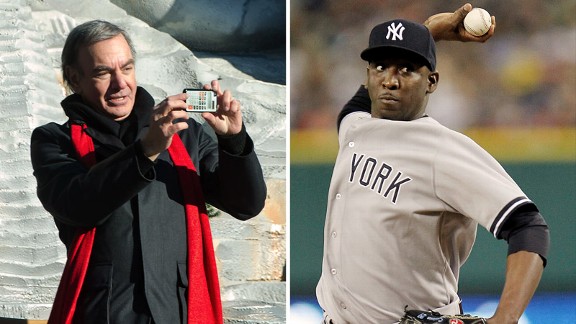 Getty Images
Look out, Neil Diamond! You've got some competition in Rafael Soriano.Rafael Soriano almost always looks as if he is in a sad mood. When I asked him who he hangs out with on the road, he didn't try to cover anything up.
"Nobody," Soriano said.
In hotels, he said, he mainly watches soap operas on his iPod.

Listen to Rafael Soriano sing 'Sweet Caroline':


But, from a conversation we had last season, I knew there was one thing that can always brighten Soriano's mood -- hearing or, even talking, about the song, "Sweet Caroline," by Neil Diamond.
"Oh, yes," said Soriano, displaying a wide smile to accompany a large chuckle. "I love it. I love it."
Next, I asked if he had it on his iPod. "Oh, yes," Soriano said. "I don't know why I like it."
I suggested that he should make it his walk-in music.
"No, Boston fans, they love that song," Soriano said. "I don't want to have problem with that."
Soriano then told me that Jeter doesn't like it. In fact, Jeter hates it, he said.
Soriano, though, can't get enough of it -- and so he proceeded to start playing it in the middle of the clubhouse.
"Where it begins ..."
Soriano turned to Mariano Rivera in the next locker over and said, "Mo, you like it?"
Mo said, "Oh, Sweet Caroline? Yeah, I like it."
Soriano said, "I love it."
Then the singing began. "And spring became the summer. Who'd have believed you'd come along?"
Soriano has a good voice. And it was nice to see the guy smile.