Curtis Granderson wishes he could spin a basketball on his index finger; try as he might, he has never been able to master the skill.
Instead, he will have to be satisfied with having the ability to crush a baseball, no matter who is throwing it or with which hand.
Granderson's perfect spring, which began with an RBI single off Matt Reed, a college left-hander who started for USF on Friday, continued with two more hits on Saturday, the first a bullet of a double into the gap off Cole Hamels, a bonafide major-league lefty, and a wind-aided home run off righty Dave Bush, in the Yankees' 8-5 victory over the Phillies in Clearwater.
Now, through three spring at-bats, Grandy's numbers are ridiculous: a 1.000 batting average, a 1.000 on-base percentage, a slugging percentage of 2.333 and an OPS of 3.333.
"He's just picking up from where he left off last year,'' Joe Girardi said. "He hit the ball hard yesterday as well. It was good to see.''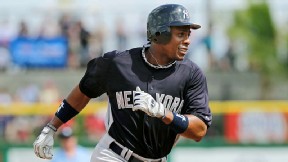 Kim Klement/US Presswire
After a tremendous 2011, The Grandy Man is off to a perfect start to his spring.One of the most intriguing questions lingering from Granderson's MVP-caliber 2011 season -- he led the team with 41 home runs, led the AL with 119 RBIs and led all of baseball with 136 runs scored -- is whether he can even come close to duplicating those numbers in 2012.
"It's still the early part of the spring,'' Granderson said. "It's only day one. The good thing about this team, I don't think there's one guy that has to be the guy.''
As such, Granderson enters this season where he left off last season -- as the No. 2 hitter in the Yankees' lineup, and quite possibly the most dangerous No. 2 hitter in baseball.
"I don't consider myself a middle-of-the-order hitter anyway,'' said Granderson, who last year said he wouldn't consider himself a home run hitter until he hit 100 homers in a season.
But there's no doubt he is a home run hitter, and if he were on another team, maybe a cleanup hitter.
"I look at [Robinson] Cano as that guy, not me,'' Granderson said. "It seems like he's always the guy coming up with the big hit or big play for the last two seasons that I've been here."
And while it seems as if Granderson has buried his reputation as a guy who can't hit lefties -- he actually had a higher batting average (.272 to .258) and slugging percentage (.597 to .531) against lefties than against righties in 2011 -- Granderson says his swing is still very much a work in progress.
"In the game it's kind of happening that way,'' Granderson said. "But in the cage I'm still fighting with it. Me and Kevin Long are still trying to still work on consistency. I'll get one good swing and then a bad swing, or two good swings and two bad swings. I want to get it where nine times out of 10 the swing always feels good and I have a chance.''
Granderson planned to spend Saturday night in Tampa watching the Harlem Globetrotters. They can't help him with his hitting, but maybe he'll finally learn how to spin a basketball on his index finger.