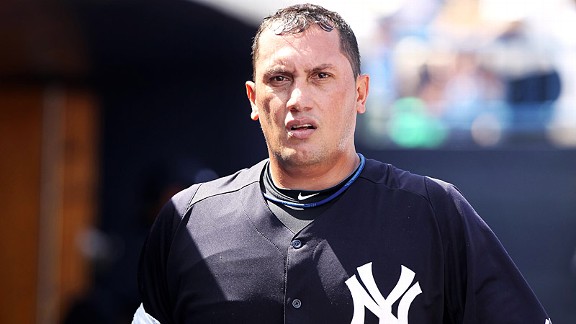 Kim Klement/US Presswire
X-rays on Freddy Garcia's right hand were negative.Updated at 4:48 p.m.
Freddy Garcia left in the fourth inning of Wednesday's 7-5 loss to the Jays after taking a comebacker off his right hand.
A hard grounder off the bat of Edwin Encarnacion enticed Garcia to reach his hand out to try and field it. Instead of completing the play, Garcia immediately walked toward third base and left the diamond, knowing he had hurt himself.
The ball hit Garcia on the top of his hand, between his thumb and index finger.
"It was just swollen," Joe Girardi said. "That is why he came off."
The Yankees announced that X-rays on the hand were negative, but have no timetable on when he will be able to pitch again. Girardi spoke prior to knowing the results of the test.
Garcia is in the midst of fighting for a spot in the Yankees' rotation. Girardi has said that CC Sabathia and Hiroki Kuroda are the only two pitchers that are guaranteed places on the Yankees' staff. Garcia is competing with Ivan Nova, Michael Pineda and Phil Hughes for the final spot in the rotation.
During spring training, Girardi has said he will not judge Garica as much as the younger guys. The 35-year-old Garcia finished last season 12-8 with a 3.62 ERA.
"Freddy is Freddy," Girardi said. "He commands all his off-speeds. He commands all his fastballs. He changes speeds."
In other words, the Yankees feel as if they know what they will get from him.
The Yankees re-signed him to a $4 million, one-year contract. Garcia agreed to the deal before the Yankees acquired Kuroda and Pineda.
While Nova seems very likely to be in the rotation, Girardi has not ruled out sending either Hughes or Pineda to start the season in the minors. Both are former All-Stars, but both have options.
"That's a possibility," Girardi said. "Some of the guys have options if that is what we need to do."
If Garcia doesn't win a spot in the rotation, it is unknown how much of an impact he could have from the bullpen. He has only pitched in relief once in his career.
The question facing the Yankees right now is the severity of Garcia's injury.
"That is why you have depth," Girardi said. "In case, you run into something freaky, like he has. I hope it is not going to keep him down."