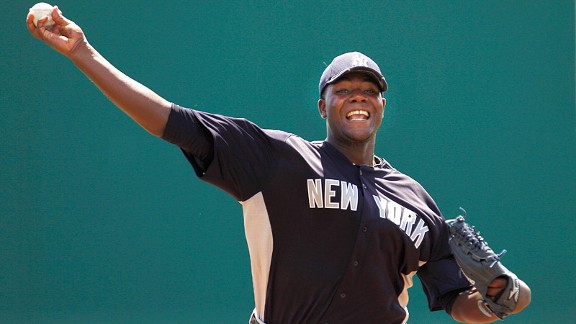 AP Photo/Paul Sancya
Michael Pineda threw mostly between 90 and 92 mph on Thursday.The initial seven batters Michael Pineda faced Thursday were sent back to the dugout. In the first, Pineda struck out two of his first three batters. He showed a nasty slider and some solid changes.
So there were some nice signs from his 3-2/3 innings of two-run, four-hit ball against the Nationals in Viera. He struck out four and walked one. He threw 65 pitches, 41 of which were strikes.
But there was also this: scouts behind home plate had Pineda's velocity at mostly 90-92.
When Pineda dominated in the first half of last year, he threw his fastball in the mid-90s. Last spring, at this time, Pineda was throwing 95-98 and his changeup was at 88.
And there was the fact that after giving up a bomb of an RBI double to Adam LaRoche into right center in the fourth, he walked Jayson Werth. This resulted in Joe Girardi pulling Pineda before he finished his fourth inning.
It is the second consecutive start that Pineda has not completed his allotted amount of innings. (He was at 65 pitches and the plan for him to be around 60.)
Before LaRoche's rip, there was the run he gave up in the third when No. 9 batter, Jhonatan Solano, nailed an RBI double into right.
Girardi is stating to judge his starters now and Pineda is going to have to out-pitch Phil Hughes and Freddy Garcia to have a spot in the rotation to begin the season. If not, he very well could be at Triple-A, which could allow him to lower expectations so he can deal with New York.