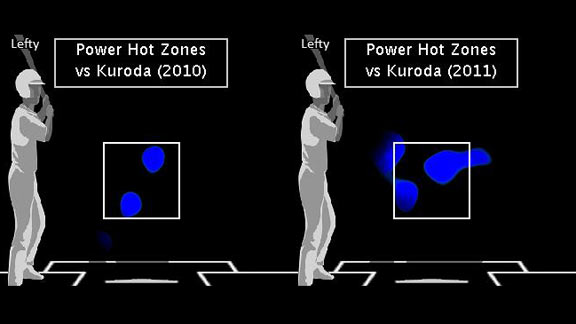 A look at where lefties hit for power against Hiroki Kuroda.
Click here to create your own Kuroda heat maps
There's only so much you can tell about newest Yankee Hiroki Kuroda from what he shows in spring training. Kuroda will make his third start of the spring against the Astros this afternoon in Tampa.
But the real test will come the first time he pitches in Yankee Stadium.
Remember the trouble that Phil Hughes had pitching in the Bronx in 2010, when he allowed 20 home runs there in 106 1/3 innings? Kuroda could be headed down that same path.
Kuroda's new home ballpark doesn't jibe well for a pitcher who pitched like he did in 2011. Let's take a closer look at the numbers.
Kuroda's 2011
Kuroda allowed 12 home runs and a .451 slugging percentage to left-handed hitters last season. That was double the number of homers he yielded to lefties in 2010, with only a minimal increase in batters faced
Kuroda's opponents slugging percentage vs lefties jumped 85 points from 2010 as well and the average distance on a fly ball hit by a left-handed batter against Kuroda soared from an estimated 258 feet to 279 feet.
Yankee Stadium key trend
The short right field porch in the Bronx has proven to be very inviting in Yankee Stadium's brief history, both for the Yankees and their opponents.
Over the past three seasons, Yankees pitchers have given up 145 home runs to left-handed hitters at Yankee Stadium. Only the Orioles (155) have allowed more home runs to lefties in their home ballpark in that span.
Issues to overcome
Last season, Kuroda didn't do a good job in putting away left-handed hitters with his heater.
The chart on the right shows the difference in effectiveness for Kuroda in situations where he had a two-strike count against a left-handed hitter.
Kuroda's fastball vs Lefties
With 2 Strikes
Worth noting was that Kuroda threw 60 percent of those pitches in the upper-third of the strike zone or higher in 2011, a significant increase from his 42 percent rate in 2010.
Though Kuroda's velocity stayed the same (average fastball: 92 MPH), he became an easier hitter for a left-handed hitter to muscle up against.
In 2010, about one of every 10 plate appearances by a lefty against Kuroda resulted in a ball being pulled in the air. In 2011, that rate became one of every six.
On the right, you can see the increase in damage done by hitters ranging in skill from pitcher John Lannan to sluggers Ike Davis, Ryan Howard, and Pablo Sandoval, all of whom homered against Kuroda last season.
Hiroki Kuroda vs Lefties
The more we zoom in on the batted ball locations against Kuroda, the more troubling the numbers.
Lefties hit 33 fly balls and line drives against Kuroda along the right field line (we started at that line and extended out 15 degrees from that point to define this area). That's a rate of about one per game.
Those 33 fly balls traveled an average of 315 feet, the furthest for any pitcher in the majors last season. Ex-Yankee A.J. Burnett ranked second, 310 feet.
Why is that particularly worrisome in Yankee Stadium? Remember the distance from home plate to the fence in the right field corner?
It's 314 feet.
UP NOW: Ian O'Connor's column on Andy Pettitte's return.
ON DECK: Wally Matthews & Andrew Marchand will be in the clubhouse when it opens at 7:25 a.m. We will have more reaction and comnentary on Andy Pettitte's return.
QUESTION OF THE DAY: How will Kuroda fare?