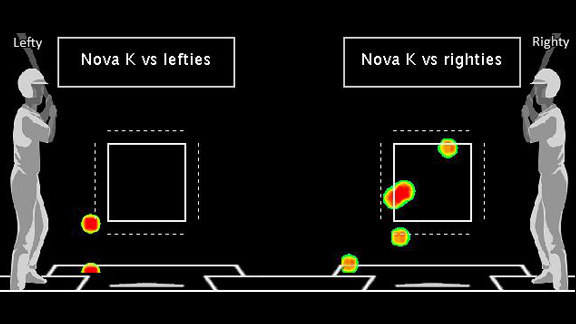 Ivan Nova's seven strikeouts on Monday.
Click here to create your own Nova heat mapsFrom a statistical perspective, Ivan Nova 2012 didn't look too much different from Ivan Nova 2011.
In fact in one regard, he looked better.
Nova's curveball was an important part of his and the Yankees first win of the season. He threw 15 of his 21 curves for strikes, according to our pitch performance data, using it to whiff both Wilson Betemit and Chris Davis in the second inning to get out of trouble and keep the game tied, 1-1.
Another positive sign was in Nova's ability to put hitters away with two strikes. He reached a two-strike count on 14 hitters and retired 13 of them –- five with the curveball, four with the slider, and four with his fastball.
The heat map above shows the pitch locations for Nova's seven strikeouts, all of which came on pitches that were either right on the border of the strike zone, or out of the zone. He finished the game throwing 72 percent strikes, the highest rate in any start in his career.
Though Nova had trouble with Matt Wieters and the Orioles lefties, he did hold their right-handed hitters to four hits in 17 at-bats. Nova followed a pattern of effectively throwing his fastball up and keeping his breaking pitches down.
Nova was also very effective with runners in scoring position, much as he was last season, holding the Orioles to just two hits in 12 at-bats in those situations. Last season opponents hit just .215 against Nova with runners in scoring position.
Other statistical notes from this game
• Nova has a 13-game regular-season winning streak dating back to last season, the longest by a Yankee since Roger Clemens won 16 straight in 2001. One more win would match, among others, the longest win streak by Yankees legend Whitey Ford.
• Derek Jeter now has 41 games with at least four hits in his career (Lou Gehrig had the most in Yankees history with 53). The active leader in four-hit games is Ichiro Suzuki with 47. Jeter and Alex Rodriguez are tied for second-most.
• Four games into the season matches the earliest into a season that Jeter has had a four-hit game. He also had one against the Athletics four games into the 1997 season.