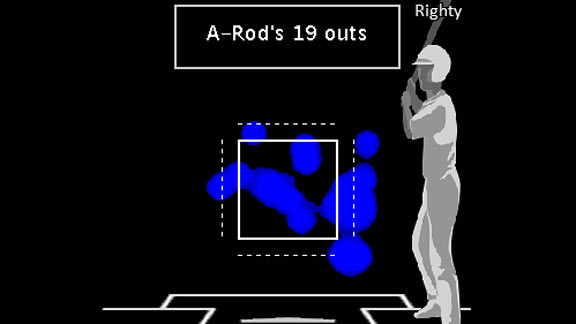 Alex Rodriguez is 4-for-23 in 2012. His 19 outs are noted above.
Click here to create your own Rodriguez heat mapsWhat have we seen from the Yankees from a statistical perspective in these first six games?
There were some good things and some bad things, many of which will normalize over the extension of a full season. But there was still plenty of a noteworthy nature.
Here are a few quick observations:
Defenses are going to pull out all the stops
In both series, the Yankees left-handed hitters had to hit against very carefully positioned opposing defenses.
They had far better success against the Orioles than the Rays, the latter of whom is considered among the best defensive teams in the game.
Yankees lefties had a .229 batting average on balls in play against Tampa Bay, well below their norm, which ranges from .290 to .300.
Mark Teixeira seemed to be fighting against defenses throughout these six games, but finally got a little lucky with his birthday-present bloop down the left field line prior to Nick Swisher's game-winning home run.
New York Yankees
Through 6 Games
Plate Patience
We've referenced this a few times in our game previews and it's certainly nothing new, but the Yankees are going to draw a lot of walks this season. They've drawn 31 in six games (two of which went extra innings).
Russell Martin is the unlikely club leader in walks with six in six games. Last season, Martin averaged a walk every 9.5 turns.
Captain Crunching
Derek Jeter is off to a very strong start, hitting .370 through the Yankees first six games. Jeter hasn't had that high a batting average through the Yankees first six games since 2005, when he hit .435.
The bullpen is going to be a strength
In 21 1/3 innings, the Yankees relievers allowed five runs and 15 hits, with 33 strikeouts and 11 walks.
Cory Wade, David Phelps and David Robertson may be the unofficial team MVPs so far. In 11 innings, they have 20 strikeouts and three walks, with only five hits allowed.
Their presence was needed because Yankees starters were below-average in these six games. Only Ivan Nova posted a start with a Bill James Game Score (a metric that rates starts, usually on a scale of 0 to 100) of 50 or better. CC Sabathia's first two rated a 40 and a 49.
But you may have to settle for Slower Mo
Last season Mariano Rivera hit 90-miles-per-hour or better on the radar gun on 90 percent of his pitches.
In his first four games of 2012, Rivera has hit 90-plus on 52 percent of his pitches. Perhaps some of this was aberrational. In Wednesday's win, Rivera hit 90 on the radar gun on 15 of 19 pitches.
Heat Map of the Road Trip
Teams are jamming Alex Rodriguez with pitches inside, at least until he proves that he can hit a ball over the fence against one this season.
Rodriguez didn't have an A-Rod type of first six games, hitting .174. The heat map atop this story shows the pitch locations for his 19 outs, 11 of which came on inside pitches.