WHAT IT MEANS: New York Yankees reliever Mariano Rivera appears to have a torn ACL and could be out for the season, according to manager Joe Girardi. Rivera has hinted that this will be his final season. Now, this possibly could mean the end of his Hall of Fame career.
Most Memorable Mo-ments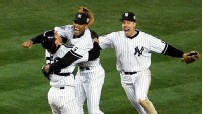 ESPN New York takes a look back at Mariano Rivera's greatest saves.
Photo Gallery

Top 50 Yanks

THE UNDERSTUDY: David Robertson isn't Mo, but you can make a strong case he is the most unhittable reliever in baseball. Entering Thursday night, Robertson had pitched 11 shutout innings and struck out 18 batters. Let's break that down a little more. Robertson had not allowed a run and he has struck out more than half of his outs.
That's not good enough for you? Robertson had not allowed a run 24 1/3 innings, dating back to Sept. 1 of last season.
There is more glare when you have to close, but Robertson has been so dominant that it is hard to imagine him struggling. Can he be Mo? Well, that is another question.
SORI SETUP: With Rivera out, Rafael Soriano can earn a little more of his money. Soriano, in the middle of his three-year $35 million deal, is paid big money even though he doesn't pitch in money spots. With Mo hurt, Soriano will most likely be promoted up to the eighth-inning set-up role. Soriano is 2-0 with a 2.25 ERA in eight innings thus far.
Soriano was supposed to be the heir and the bridge to Rivera, but Robertson has been so good that Soriano has been pushed down in the reliever hierarchy. Here is a chance for him to provide more value.
HUGHES-FUL: Phil Hughes is slated to start this weekend. He still is expected to do that, but when Andy Pettitte returns, putting Hughes back in the bullpen makes even more sense. Hughes has been ineffective as a starter (7.48 ERA) this season -- and for most of his MLB career -- but he has been dominant as a reliever. He could be the seventh-inning guy.
THE FALLOUT: Stop! Just stop! In the Twitterverse, there has been some talk that Mo shouldn't have been shagging fly balls. He has only been doing it his entire career. Entering Thursday, he had not been on the DL in almost a decade. It has sort of worked out fine for him. Not a good second-guess look.
WHAT IS NEXT: Rivera, 42, has hinted that he may retire after this year. How this impacts his decision, no one knows yet. But this could possibly be how the career of the greatest closer of all time ends.
QUESTION OF THE NIGHT: What is your reaction to the Mo news?