Andy Pettitte tossed eight shutout innings Friday night, yet he was lucky to pick up a win.
That's because while he was posting zero after zero on the scoreboard, his teammates were doing the exact same thing -- with one exception, a single run pushed across in the bottom of the fourth, when Curtis Granderson scored on a groundout by Alex Rodriguez.
Only after Pettitte had thrown his 115th and final pitch of the night -- an 85 mph fastball that Drew Stubbs grounded to Rodriguez to end the top of the eighth -- did the Yankees put some distance between themselves and the Cincinnati Reds, thanks to a solo homer by Robinson Cano and a two-run shot by Raul Ibanez against a tiring Bronson Arroyo.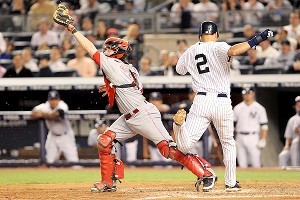 Anthony Gruppuso/US Presswire
Yes, Derek Jeter should have been called safe. But that's no excuse for the Yankees' continuing struggles at the plate.Those three insurance runs put the Yankees' bullpen at ease -- instead of bringing closer Rafael Soriano into a one-run game, manager Joe Girardi called upon Boone Logan to mop up a 4-0 victory. But they did nothing to make Pettitte's 24 outs any easier, forcing the 39-year-old to pitch with literally no margin for error.
Pettitte said as much after the game. "You knew that we were struggling, and you knew that we've been struggling," Pettitte said.
Everybody who follows baseball knows it; it's been impossible to ignore. The Yankees entered this game losers of three in a row, dropping them to 20-18 -- in fourth place in the American League East. In those three games, the Yanks' high-powered -- and high-priced -- offense had mustered a grand total of four runs on 13 hits.
The Yankees entered Friday night 3-for-their-last-41 with runners in scoring position. And it only got worse once this game got under way.
In the bottom of the second inning, A-Rod got the ball rolling by smacking a line-drive double. But the next three hitters -- Ibanez, Nick Swisher and Eric Chavez -- failed to nudge him past second base.
The sixth inning was even more painful to watch. The Yankees loaded the bases with no outs, thanks to a Derek Jeter single, a Granderson single and a walk to Cano. But a pair of ground balls, followed by a pop-up, kept the score at 1-0 heading into the seventh.
To be fair, the Yanks should have scored a run on the first grounder -- Reds catcher Ryan Hanigan's foot was clearly an inch or two shy of the plate on the force-out at home. Nevertheless, there were no clutch hits to be found in the frame.
Pettitte's Place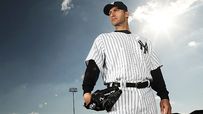 Andy Pettitte is back in pinstripes. Where does he rank among all-time Yanks?
50 Greatest Yankees

Rank 'Em"Some of it's luck," Girardi said. "The skill part is being able to relax and not go out of who you are. The luck part is hitting it hard and not hitting it at someone."
The Yankees have been neither lucky nor good at the plate in recent days. There are plenty of culprits. The only one you can't blame this time around is Mark Teixeira, who was given Friday night off.
"We gotta understand, this is the game of baseball," Cano said. "Nobody wants to go 0-for-4 or hit a ground ball into a double play with the bases loaded. ... Just keep your head up, forget about that at-bat and go to the next one. If you see men on base, just be positive all the time."
"It's part of the game," said Ibanez. "Unfortunately it's just what's happening right now. We've gotta deal with it and make it better. We're gonna keep working hard to make it better, and I'm sure things will change."
Things need to change in a hurry. The Yankees might not have to deal with a vintage Red Sox team this season. But the Orioles, Rays and Blue Jays look like stiff competition right now, to say nothing about the rest of the AL.
They're called the Bronx Bombers for a reason, aren't they? This team is certainly not built on pitching. After CC Sabathia, there's no guarantees in the rotation -- not even Pettitte, despite his gem Friday night. And the Yanks' top two relievers are on the shelf, one for the entire season.
When asked about the insurance runs in the eighth inning, Girardi said, "You hope that kinda sets the tone for the homestand in a sense, that we get going offensively. We'll find out tomorrow."
The home runs were nice, no doubt about that.
But a hit with a runner on second or third Saturday? That would be even nicer.