To me, it is a clear, easy decision. Alex Rodriguez should be batting in front of Curtis Granderson, not behind him. All the time.
You don't need a whole binder of stats to see why this makes sense, just a few numbers.
A-Rod's Place In Pinstripes?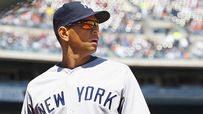 Alex Rodriguez is no stranger to controversy, but he's also one of the all-time Yankees. Where does he rank?
ESPN NY's Top 50 Yanks

VoteBefore he hit his latest homer last night, Granderson had hit a team-high 15 homers. Not counting the injured Brett Gardner, the only player with a higher on-base percentage than A-Rod was Derek Jeter.
While Rodriguez's power looks diminished, his ability to get on-base and set-the-table has not. He was getting on-base at a .372 clip.
So put .372 in front of Granderson's 16 homers and maybe Granderson wouldn't have 12 solo homers.
Now, perhaps Joe Girardi doesn't want to move A-Rod into the two-hole because of his ego or his contract. Rodriguez looks at himself as a middle-of-the-lineup guy and, steroids or not, he has been one of the best at it in the history of the game. Girardi and the Yankees may want to start the A-Rod phasing out as late as possible since he has five more years after this one on his contract. And the Yankees don't like the idea of having back-to-back lefties (Granderson and Robinson Cano) hitting next to each other, no matter what their splits say about how good they are against lefties.
But if the Yankees are only about winning now, I don't see why you don't do it. Granderson doesn't have that cleanup personality. He still says he is not a home-run hitter, even though he hits a lot of them.
If Girardi doesn't want to move A-Rod out of the three or four spot, that is fine, but the idea that Granderson should bat sixth or second seems illogical. Granderson has batted sixth, which is behind A-Rod. However, that is too deep in the lineup for your top bopper.
Granderson should bat third, fourth or fifth. A-Rod should bat second, third or fourth. Full time.
Let A-Rod get on base and have Granderson go yard. At the least, an order that starts with Jeter, Nick Swisher, Cano, Rodriguez, Granderson and Mark Teixeira seems like the right recipe, to me.
UP NOW: The Yankees are off today before beginning a three-game series in Detroit. We got you covered. Wally Matthews deals with the damage from the series with the Angels. Here is my chat wrap from yesterday. I have a new Bombers Beat -- which has been added to the top of this post -- in which I go further into the subject of A-Rod and Granderson and the lineup, as well as answer tweets about Phil Hughes, Russell Martin, Kevin Long and Roy Oswalt. Katie Sharp has her always fun YankeeMetrics. And we will be on the blog all day.
IN THE HOLE: Your pitching matchups in Detroit: CC Sabathia (6-2, 3.66 ERA) vs. Casey Crosby (MLB Debut). On Saturday, it is Hiroki Kuroda (4-6, 3.96 ERA) vs. Rick Porcello (3-5, 5.21). Sunday, it is Phil Hughes (4-5, 5.64) against Justin Verlander (5-3, 2.55).
QUESTION OF THE DAY: Would you bat Granderson after A-Rod?