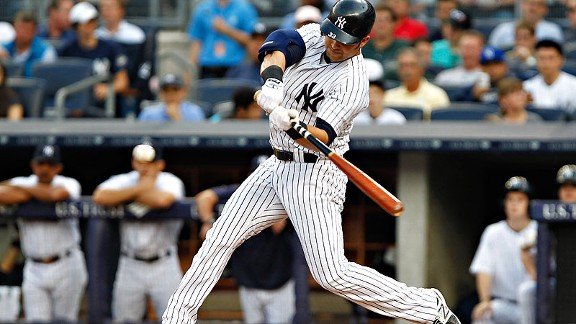 Debby Wong/US Presswire
Nick Swisher returned to the Yankees' lineup in style.Not all of the Yankees failed in clutch situations tonight. In fact, one of them was perfect.
Nick Swisher had the only two hits with runners in scoring position in the Yankees' 4-3 loss to the Braves, but only one of them drove in a run. Two runs in fact. Swisher's second-inning double to deep center field gave the Yankees a 2-0 lead, and when he came to the plate in the fifth with runners on first and second and two out, he delivered again, singling hard to right field. A little too hard, as it turns out, because Braves right fielder Jason Heyward charged the ball and gunned down Mark Teixeira at the plate as Tex tried to score from second.
"We really wish he wouldn't have hit it so hard,'' Teixeira said of Swisher's liner. "We know Heyward's got a really good arm, one of the best outfield arms in baseball. We were just hoping in that situation that he made a poor throw and he didn't. He made a great throw.''
Batting .250 this season w/RISP, Swisher is well above the team average (.219) in that situation, and while on many nights that stat is absolutely meaningless, tonight it was of vital importance, especially in the seventh inning when the Yankees got runners to second and third with one out and Teixeira and Raul Ibanez coming to bat."
But the Yankees' final opportunity to tie the game fizzled when Tex hit a grounder to third, and Chipper Jones fired home to nail Curtis Granderson trying to score. Ibanez ended the inning by striking out.
"That's part of the game,'' Swisher said of the Yankees' failure to deliver in the clutch. "When you get your opportunities, you got to take full advantage of them.''
And he did. The rest of them didn't.