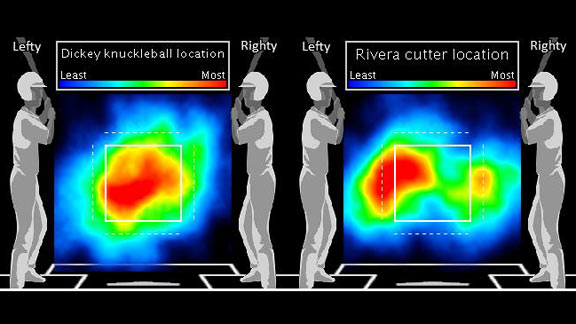 Mariano Rivera's cutter is a far different looking pitch than R.A. Dickey's knuckler.
With Yankees closer Mariano Rivera on the sidelines, the best, most talked about and most frustrating pitch in New York baseball is R.A. Dickey's knuckleball.
Colleagues have suggested we put Rivera's signature pitch side-by-side with Dickey's and compare the two of them. So let's do that here.
Since Dickey joined the Mets in 2010, he has thrown 5,570 knuckleballs. When a plate appearance ends with a Dickey knuckler, opponents are hitting .228 with a .603 OPS. They've averaged a home run for every 192 knuckleballs thrown.
That sounds impressive until you look at Rivera's numbers in that same span. His 1,638 cutters thrown over the past three seasons have netted opponents a .202 batting average and .508 OPS. He's allowed a home run with the cutter at a rate of once for every 410 cutters thrown.
Dickey's Knuckler vs Rivera's Cutter
With 2 Strikes (since 2010)
Rivera's advantage comes through in just about every area, with the exception being that Dickey is able to get hitters to miss more frequently when they swing.
Things get a little more interesting when you isolate two-strike pitches of those types.
Take a look at the chart on the right. In terms of their ability to finish off a hitter when they're in a two-strike scenario in that situation, the two pitches rank virtually even.
Dickey's ability to get a hitter to miss at a rate of about once every 4.5 swings is considerably better than Rivera's rate of once every 6.5 and that helps neutralize Rivera's advantage earlier in counts.
Rivera has been able to dominate with his pitch for nearly 20 years. Dickey's dominance at an elite level hasn't even lasted 20 starts yet, but his current run shares the common thread with Rivera of baffling hitters and sending them back to the dugout mumbling to themselves.
Which would you rather face? Share your thoughts in the comments section.