The Yankees plan to first look from within to fill Andy Pettitte's and CC Sabathia's spots in the rotation. But general manager Brian Cashman will stay in touch with other GMs to make sure he has a good read on the market as we approach next month's trade deadline.
First, though, the Yankees will give Freddy Garcia, David Phelps and Adam Warren a shot to show they are starters. The Yankees specifically sent Phelps, despite a 2.94 ERA as a major-league long man, down to fill such a position. He would be the team's first choice to make the next open start, but he is not ready just yet. That could change shortly.
"Phelps is a guy that -- if he were stretched out -- would be the prime candidate and then Warren would be second," Cashman said.
Pettitte's Place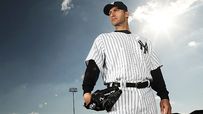 Andy Pettitte's back in pinstripes. Where does he rank among all-time Yanks?
50 Greatest Yankees

Rank 'EmPhelps is maxing out at 65-70 pitches right now. So after one more outing, he could be ready to return to the bigs.
"We will look if we stretch him out up here or keeping him going down there," Cashman said.
Meanwhile, the Yankees have liked what they have seen from Garcia recently. In eight relief innings this month, he has only allowed one run.
"There is more arm speed for me," Girardi said.
Garcia will start on Monday in Tampa. He is not fully built up either, so he is probably only good for 50 to 60 pitches. If he does well, though, he could remain in the rotation.
Warren will make his major league debut on Friday against the White Sox. Warren, 24, is 5-5 with a 3.86 ERA at Triple-A. He was already scheduled to pitch on Friday.
"He is having a good year," Cashman said. "He has definitely earned the opportunity. His day happens to be Friday so that works out. He will have a chance to come in here [Thursday] and soak up the atmosphere."
In terms of trade possibilities, Buster Olney tweeted that Francisco Liriano could be someone the Yankees could have interest in as a starter or reliever. Liriano has a 5.30 ERA thus far this season. The Yankees have spoken to Minnesota about him in the past.
In reality, if the Yankees' doctors are on target, they will only need to fill one spot (Pettitte's) for an extended period, because Sabathia should be back after missing just two turns through the rotation.
By the way, two guys that aren't in the picture are Dellin Betances and Manny Banuelos. Betances is 3-5 with a 6.39 ERA at Triple-A, while Banuelos is on the DL with a sore elbow. On the year, Banuelos is 0-2 with a 4.50 ERA, also at Triple-A.