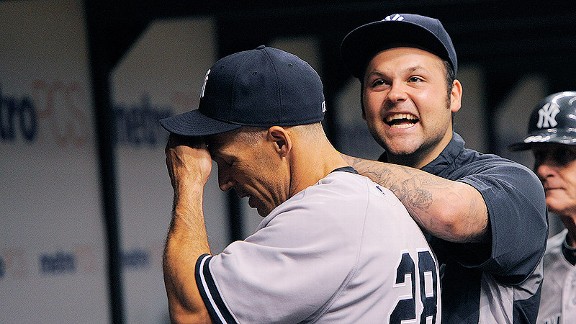 AP Photo/Brian Blanco
Joba Chamberlain was all smiles tonight before the game against Tampa.Joba Chamberlain made the trip to St. Petersburg with his teammates, only he was coming from across Tampa Bay, where he has been rehabbing his two injuries -- right elbow, right ankle -- at the Yankees minor league complex.
"It's good to see you guys again,'' an obviously giddy Joba said after having thrown a simulated game, two innings of 20 pitches apiece, to a couple of minor leaguers earlier in the day, followed by some fielding drills.
In fact, so encouraged was he by the outing, his first time throwing to hitters since before the injury, he issued a proclamation: "I can promise you I'm going to pitch. I can promise you that. You can write that down, too. Tell everybody. It's going to happen.''
He wouldn't say exactly when -- "We're going to take it one day at a time'' -- but said he would throw another sim game on Friday before sitting down with team officials to determine the next step in his road back from Tommy John surgery last July, followed by an appendectomy just days later, and finally, surgery to repair a dislocated ankle suffered in a trampoline mishap this spring.
"Nobody thought I was gonna do it in the first place, let's be honest,'' he said. "It's always nice when you have people doubt you. It gives you a little more reason to work. There was people who said I wasn't going to pitch this year, or ever again. But I never doubted it, not for one minute.''
Joe Girardi watched Joba pitch this morning and reported, "I thought he looked pretty good today. I thought his location was good. I thought his breaking ball was good. He threw some changeups even. I was pleased.''
But neither could Girardi provide a potential date for Joba's return. "I don't want to get too excited too early,'' Girardi said. "He's a power arm, a strikeout pitcher. He could add a lot if we can get him back to where he was. But let's just see how the next two go and how he responds to some in-game competition where he has to do a lot more things than just throw a baseball.''