With his first inning single, Derek Jeter passed Mickey Mantle for the most All-Star hits in Yankees history. Jeter has 11.
The 50 Greatest Yankees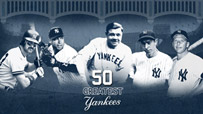 Choosing the 50 Greatest Yankees was a daunting task. ESPNNewYork.com rose to the challenge. Top 50

Rank 'EmThe infield single deflected off third baseman Pablo Sandoval's glove before Rafael Furcal handled it in the hole. Furcal fired a strike across the diamond, but Jeter beat the throw. Jeter went 1-for-2 on the night. He was pinch-hit for in the fifth.
Jeter, whose .440 Midsummer Classic batting average is tied with Ken Griffey for fifth all-time, needs one more All-Star Game hit to crack the career Top 10, though he's unlikely to break Willie Mays' mark of 23. (For the record, Jeter's childhood idol, not to mention Hall of Famer and former Yankee, Dave Winfield, is among the Top 10 with 13 All-Star Game hits, though four of those came while a member of the San Diego Padres.)
Meanwhile, the fans in Kansas City are not through with Robinson Cano, choosing to boo him every chance they get. They first booed Cano during the Home Run Derby for the crime of not picking the Royals' Billy Butler, even though Butler did not deserve to be on the team. Cano indicated at one point he might take Butler so that got the Kansas City fans further in a tizzy.
Cano had a single in two-at-bats. He was also pinch-hit for in the fifth.
As for Curtis Granderson, he went 0-for-2.