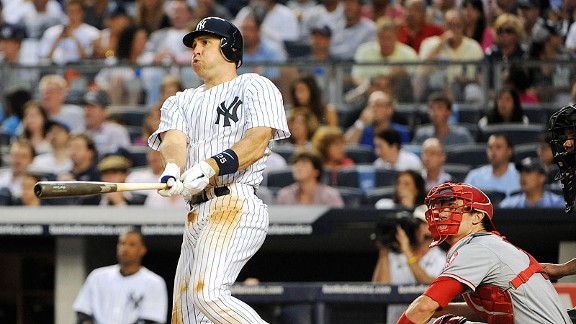 Christopher Pasatieri/Getty Images
Mark Teixeira's two homers on Friday night helped get the second half started off right.Yankees slugger Mark Teixeira came back after the All-Star break relaxed and ready to hit.
Teixeira started the second half of the season in spectacular fashion, hitting two homers and driving in five of the Yankees' six runs in their 6-5 win over the Los Angeles Angels on Friday.
He said afterward that he felt "fresher" after having four days off during MLB's All-Star week.
"A lot of this game, you play every single day and you don't have time to catch up. When you have four days off, there's no excuses," Teixeira said.
Teixeira had been hitting well right before the break, making up for what had been a mostly trying first half in which he was slowed by a lingering cough.
The 50 Greatest Yankees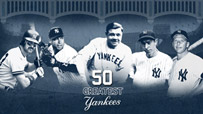 Choosing the 50 Greatest Yankees was a daunting task. ESPNNewYork.com rose to the challenge. Top 50

Rank 'Em"I wasn't happy with my first half at all," Teixeira said after the final first-half game in Boston last Sunday. "I didn't feel like myself the whole first half. ... This break is going to be really good for me to get some rest and get rejuvenated for the second half."
He did just that over past four days, taking time away from the daily grind of playing baseball in the Bronx to relax with family.
When Teixeira came back to work Friday, he felt rejuvenated, but his swing was a bit off.
"I actually had a terrible batting practice today," Teixeira said. "Early BP was bad, regular BP was bad."
But once it counted, the nine-year veteran was fine.
In his second at bat, Teixeira drilled C.J. Wilson's cut fastball into the left-field seats to put the Yankees up, 2-1.
Los Angeles answered with three-run homer from Mark Trumbo in the seventh and brought a run across in the eighth with two clutch doubles to take a 5-2 lead.
Entering the eighth, the Bombers were hitless in eight at-bats with runners in scoring position, continuing what has been a troubling trend for the team with the best record in baseball.
The Yanks had the second-worst average with runners in scoring position in the American League in the first half. So it felt like that would be the theme of the night once again as they struggled to get runs across.
But Teixeira changed all of that in the eighth inning, when he drilled the fourth pitch he saw from Angels reliever Scott Downs into the left-field seats for a game-tying three-run homer.
Teixeira said Downs has "one of the best sinkers in baseball." So he was looking for a sinker down and away to hit into right. Instead, Downs threw him a hanging curve that he hit 10 rows deep to tie the game at 5.
Russell Martin -- another Yankee who benefited from a few days off during the All-Star break -- followed with a line drive single to right to score pinch-runner Dewayne Wise and give the Yanks a lead they wouldn't relinquish.
Martin entered play on Friday hitting an abysmal .179. He spent the past four days at home in Montreal, relaxing with family and staying away from anything baseball-related.
Like Teixeira, he came back to the Bronx with renewed energy.
"It was a great way to start the second half," Martin said.