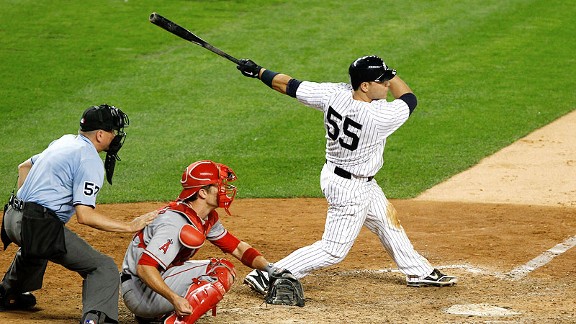 Debby Wong/US Presswire
Yankees catcher Russell Martin, who had Friday night's go-ahead hit, spent the All-Star break with family in Montreal, relaxing after a rough first half.Russell Martin spent the All-Star break hanging out with friends and family in Montreal, staying as far away from baseball as he could.
And who could blame him?
Martin was abysmal at the plate in the first half, hitting just .179. At one point, he went hitless in 29 at-bats.
"Instead of stressing about numbers, you kind of just forget it," Martin said of his approach during the break. "Go hang out with some family and get some good dinners; that's really what I did."
Seems like it worked.
Martin threw out three runners and had the game-winning hit in the Yanks' 6-5 win over the Los Angeles Angels on Friday night.
"It's a good way to start the second half, [getting] a W," Martin said. "And I'm starting to feel a little bit better about myself, so that's never a bad thing."
Martin seemed lost at the plate for the first three months of the season.
He seemed so out of whack that Joe Girardi benched his catcher in the final game of the first half. Before Martin left for the All-Star break, he had a talk with his skipper.
"It helped me kind of re-center and just get that focus," Martin said, describing the chat as "a good talk for the both of us."
Said Girardi: "We talked about [how] at the start of the second half, it starts all over."
Martin certainly took advantage of the fresh start on Friday night.
He finished the first half having caught just two of the previous 26 would-be base stealers running on him.
On Friday, he caught two of the four runners attempting to steal.
At the plate, Martin entered the second half with just one RBI in the past 12 games.
But when the Yankees needed him to drive in a run on Friday night, Martin came through.
He lined a hard single to right to score pinch-runner Dewayne Wise with two out in the eighth and give the Yankees a 6-5 lead.
"Probably more than anybody he needed those four days off and he looked great tonight," Mark Teixeira (2 HR, 5 RBIs) said of Martin.
To cap off a near-perfect night, Martin corralled closer Rafael Soriano's bounced pitch with two outs in the ninth and threw out Howie Kendrick at second to seal the win for the Yanks.
"It was a fun way to end the game," Martin said.
And a great way to start the second half.