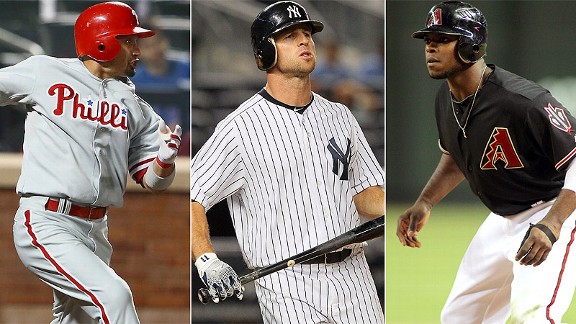 Getty Images
With Brett Gardner likely out for the season, will the Yankees make a move for an outfielder?With the not-exactly-shocking news that Brett Gardner will go under the knife, and likely be out for the season, the time may have come for the Yankees to consider something they had clearly been hoping to avoid: making a trade for an outfielder at the trade deadline.
Even with last night's 4-3 loss to the Oakland Athletics, things are going so well for the Yankees right now that there is no need to make wholesale changes, or part with a boatload of top prospects.
But it does seem that with Gardner probably unavailable to them this year, the Yankees have one remaining hole to fill on the roster: They need a backup outfielder who can run and play center field. After all, Curtis Granderson cannot play every day, even if he had until two days ago.
I know, they already have Dewayne Wise, who has shown himself to be a more-than-capable backup when he has gotten a chance to play. But if the Yankees truly want to play deep into October this year -- and you know they do -- then an upgrade is probably in order.
Right now, the two best fits seem to be the Phillies' Shane Victorino and the Diamondbacks' Justin Upton. Each has positives and negatives, but either could be made to fit in with the Yankees, depending on what the future plan is.
Victorino is the easy choice, since he has been part of a world championship team, and will be a free agent after this season. He has the experience the Yankees will need this fall without bringing along any long-term commitments.
Upton, of course, is less experienced, but also much younger (24) than the 31-year-old Victorino. But if the Yankees were to swing a deal for him -- and the word is the Pittsburgh Pirates are pushing hard to close a deal with Arizona -- they would inherit the rest of his five-year deal, which has three more seasons to run after this one and would cost them the remaining $38.5 million left on his contract.
And a deal for Upton does raise another interesting possibility -- the prospect that the Yankees could part ways with Granderson, on whom they have a $13 million option for 2013. That would solve their next big dilemma, namely, whether they can afford to sign both Granderson and Robinson Cano to long-term deals when they become free agents before the 2014 season and come in under Baby Boss Hal Steinbrenner's mandated $189 million payroll.
Trading for Upton would allow them to retain Cano without a struggle and provide them with a young, improving center fielder at a reasonable cost for the next three years.
What would obtaining either of these two take? Prospects, of course, since there are very few, if any, tradable pieces on the major league roster.
Which leads us to today's multi-part Question of the Day: First of all, whom would you prefer to see the Yankees pursue, Victorino or Upton? And how much would you be willing to give up to get either of them? Would you go so far as to part with a Manny Banuelos or a Dellin Betances? How about an Adam Warren or an Eduardo Nunez?
Let us know below. Brian Cashman may be reading.
Up now: Jeff Fletcher has the Rapid Reaction from last night's loss to the A's, as well as a news story on Gardner's elbow surgery.
Comng later: Another fine What2Watch4 on tonight's matchup, Ivan Nova (10-4, 4.18) vs. LHP Tommy Milone, (9-6, 3.54), first pitch at 10:05 p.m.
As always, thanks for reading.