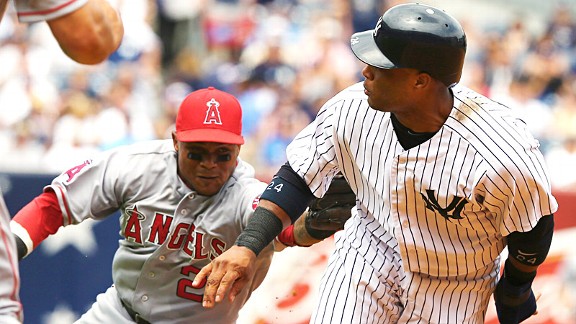 Al Bello/Getty Images
The Angels are quickly turning into "Yankees West."
In the offseason, they capitalized on a massive TV deal and spent a boatload of money to bring in stars Albert Pujols and C.J. Wilson.
These days, Mike Trout is making everyone forget about Bryce Harper, Mark Trumbo keeps hitting titanic home runs and, on Friday, Los Angeles executed a blockbuster trade with Milwaukee to acquire Zack Greinke, coughing up a bunch of prospects for what could be a two-month rental.


The Angels now boast a rotation that includes Greinke, along with Wilson and Jered Weaver. And just imagine if Dan Haren gets it together? That's as formidable a quartet as there is in baseball.
The Angels currently find themselves at the top of the Wild-Card standings, and could very well face the Yankees in the divisional round of the playoffs if they don't catch the Rangers in the AL West and win the single elimination game.
While the Angels have gone the trade route to improve their roster, Andy Pettitte and Joba Chamberlain are likely going to be the Yankees' biggest additions. Assuming he's healthy, Pettitte would likely slide into the No. 2 spot in the rotation behind CC Sabathia, while Chamberlain -- who has been throwing in the mid-90s and will make another rehab appearance on Sunday night for Double-A Trenton -- will provide a boost to the back end of a surprisingly dominant bullpen.
The two teams are very evenly matched. The Yankees have the edge in the lineup department, while the Angels have the better rotation. Both team's bullpens are excellent, and both Joe Girardi and Mike Scioscia have managed and won big games.
The Angels and Yankees have played some pretty darn good playoff series in the past. And they're on a collision course to meet again in October.
Question: How do you think the Yankees stack up against the Angels in a postseason series?
UP NOW: Wallace Matthews writes that the Red Sox stink. Andrew Marchand filled up the blog with items on Phil Hughes, Curtis Granderson and Eric Chavez. I wrote about Ichiro .
ON DECK: The Marchand, Matthews and Mazzeo trio has you covered again in the Bronx. It'll be CC Sabathia (10-3, 3.30 ERA) vs. Jon Lester (5-8, 5.46) on Saturday afternoon. Katie Sharp and Mark Simon will also have some interesting blog items as well prior to first pitch.