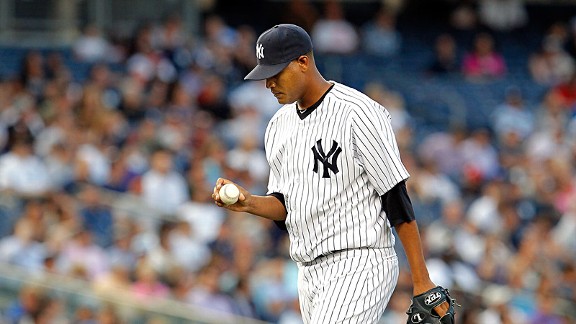 Paul J. Bereswill/AP Photo
Joe Girardi thought Ivan Nova was just bad. Nova felt it was just bad luck.
After Nova allowed a career worst nine runs in five innings, including seven in the second inning, Girardi didn't spare him.
"He had no fastball," Girardi said. "Inconsistent slider. Inconsistent curveball."
Nova didn't see it that way. He just thought the Orioles were on him.
"Bad luck," Nova said.
Nova gave up the seven runs in the second with two outs. At times in the past, Nova has lost focus.
"He better get it back or it is going to happen a lot," Girardi said. "You can't lose focus. If you are a major league pitcher, you have to be able to put things behind you. If you make a bad pitch if you have to get the next guy out."
Nova said he didn't lose his focus. In fact, Nova (10-5, 4.53) didn't seem to think much was wrong. He actually was happy with the all the strikes he threw (66 out of 93 pitches). The manager wasn't as pleased with Nova's execution.
"He really didn't have good stuff tonight," Girardi said. "He had no fastball command. His breaking ball was inconsistent. I saw him throw one good one."
FOUR-GAMER: The losing streak matches the Yankees season high. It is the most they have lost in a row at home.
PETTITTE TOO: The last Yankees to allow nine runs in a game was Andy Pettitte, exactly four years ago in the old stadium.
ICHIRO: Ichiro Suzuki got his customary one hit. He has one hit in each of his first Yankee games.
JETER: Derek Jeter had another three-hit game, which is his 11th of the year. He had 12 all of last season.