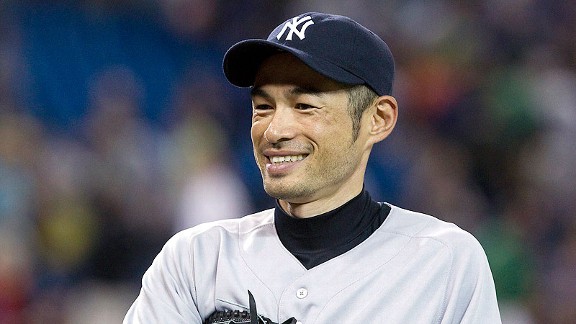 AP Photo/The Canadian Press, Chris Young
Ichiro Suzuki drove in five runs in the Yankees' blowout of the Jays.Ichiro Suzuki admits that playing for the Yankees takes some getting used to.
"Sometimes I get up to the plate and I hear them say, 'Now playing left field, Ichiro Suzuki for the Yankees,'" he said. "And sometimes it takes me a while to think, 'Oh, yeah, I am on the Yankees.'"
But the Yankees are clearly getting used to having Ichiro around, especially after a night like he had tonight, going 2-for-5 and driving in half the runs in the Yankees' 10-4 victory over the Toronto Blue Jays in the first game of a three-game series at the Rogers Centre.
As Ichiro was surrounded first by the 11-member Yankees beat crew and later by an even more sizable Japanese media contingent, Derek Jeter, who seems to delight in having Ichiro around, shouted out, "What a player, Ichiro! What a player!''
Ichiro Suzuki In Pinstripes

Ichiro Suzuki is a Bronx Bomber -- and ESPN New York has all the coverage.
The Best of Ichiro

Latest

Then he added a playful expletive. A few moments later, Nick Swisher found himself surrounded by the Japanese media, apparently seeking a response to something Suzuki had told them, and with a befuddled look on his face summoned Ichiro over.
After a whispered conversation, Swisher confided that what Ichiro said to him was, "I praise you too much, [expletive]. I praise you too much.''
And Ichiro's quirky wardrobe -- he often arrives at the park in skin-tight jeans rolled up to his mid-calf and high-top sneakers, concealing socks that are almost always striped and often pink -- and lengthy and exotic-looking pregame stretching routine performed in the middle of the clubhouse floor have made him an object of bemused fascination for his new teammates.
But tonight, Ichiro made the first real strides form being a curiosity to serving a legitimate role with the Yankees down the stretch. He drove in the second run of the game with a groundout, singled in two more with a shot off reliever Steve Delabar's glove in the eighth and helped the Yankees tack on four more in the ninth with a sinking liner that eluded the dive of left fielder Rajai Davis for a two-run double.
"There's always an expectation here, whether it's fair or not, that when you get traded here, you're supposed to really come and help,'' Joe Girardi said of Ichiro, without explaining where exactly in the major leagues a new player would not be expected to help.
"Some guys are going to feel that heat, but I don't think it's really bothered him,'' the manager continued. "I think he's probably been through a lot in his life that's really helped him in this situation.''
Whatever it is -- my gut feeling is that Ichiro's 2,500 previous major league hits helped his adjustment period to New York more than his life experiences -- the 38-year-old future Hall of Famer seems not the least bit overwhelmed by his transition to the Yankees.
Tonight he was asked to play center field for the first time in more than four years and handled both his chances flawlessly. "It had been a while, so I was a little nervous,'' he said. "But there were no tough balls hit to me today, so everything went well.''
Ichiro's night raised his Yankees batting average to .262, nowhere near his career mark of .322, but in the twilight of his career, he is happy to be a Yankee and the Yankees are happy that he is here.
"That's the kind of guy we need here,'' Swisher said. "He's never won before, and for a guy to have a great career like he's had and not have a World Series ring, we gotta try to make that happen for him.''