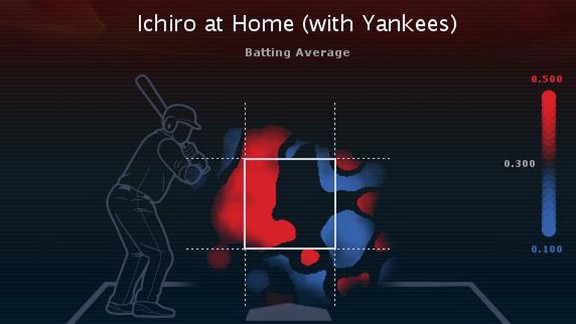 Ichiro had a penchant for hammering inside pitches at Yankee Stadium last season.
If Ichiro Suzuki re-signs with the Yankees (a move that makes sense for both), it will be very interesting to see how well he performs in the Bronx.
Ichiro hit .359 with five home runs and 11 stolen bases in 34 regular-season games at Yankee Stadium after his acquisition in late July. That .359 was the highest home-ballpark batting average by a Yankees player (minimum 100 at-bats) since Mariano Duncan hit .406 in 160 at-bats in 1996.
Ichiro made great use of the short porch in right field, with his best work being a multi-homer game against the Red Sox and Josh Beckett on August 19. He also launched a home run against Jose Valverde as part of the Yankees epic ALCS rally against the Detroit Tigers.
There's all sorts of small-sample, cherry-picking, non-predictive fun to be had in looking at Ichiro's Yankee-Stadium performance.
For example:
Ichiro had 42 hits at home in two-and-a-half months with the Yankees. That was two fewer than Mark Teixeira had in the Bronx in 106 fewer plate appearances. It was one more than Russell Martin had in 120 fewer plate appearances.
Heck of a Couple Months
Highest OPS at Home
(2012 Yankees)
Ichiro had more line drives at home as a Yankee (22) than he did swings-and-misses (18). All of the other Yankees hitters combined for more than three times as many swings-and-misses as line drives at home.
Ichiro saw 102 "inside" pitches in those 34 games in the Bronx (inside defined as "inner-third of the plate or closer to him"). They resulted in 18 base hits. That was the third most of anyone on the Yankees over the whole season, and two more hits than Nick Swisher had on inside pitches all season regardless of ballpark.
Ichiro had a better at-bats per home run rate in the Bronx as a Yankee (one every 23.4 at-bats) than Alex Rodriguez (26.5) did in 2012.
Yes, we realize that some of those numbers above are silly and prone to potentially enormous regression, but they also give us something to think about.
Ichiro has long had a rep as being one of the smartest hitters in baseball. Multiple Baseball Tonight analysts have said that he could be a power hitter any time he wants to be one. He seemed to have a knack for doing so in a ballpark whose dimensions play very much into his favor.
There are plenty of reasons both for and against signing Ichiro and there are debates to be had on a much more basic level than this.
The anti-Ichiro crowd could point to his age, his declining skills in many areas, and the fact that his road numbers with the Yankees were terrible as three simple reasons not to pursue him
But given what you saw in 34 games, and knowing what you know about Ichiro, would you want to bet against that guy turning Yankee Stadium into his personal version of Coors Field for 81 times a year?