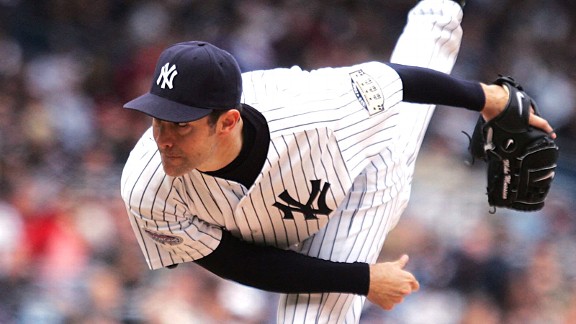 Mike Mussina's numbers rank among the best of his era.The other day I generated a list on Baseball-Reference.com of the top pitchers in wins above replacement in my lifetime (since 1975).
The first four names on the list made perfect sense: Roger Clemens, Greg Maddux, Randy Johnson and Pedro Martinez.
The fifth is a pitcher who will be on next year's Hall of Fame ballot, whose name you might not expect to see that high -- ex-Yankee Mike Mussina.
The Hall of Fame ballot is going to be vastly overcrowded, with all the holdovers from this year's ballot, and the first-year eligibility of Maddux, Tom Glavine, Frank Thomas and Jeff Kent.
Mike Mussina's Career Highlights
You easily could fill out a ballot next year that includes those four, Clemens, Barry Bonds, Tim Raines, Mike Piazza, Craig Biggio, and Jack Morris, which means someone such as Mussina could get left out in the cold.
He shouldn't be.
Mussina has an excellent Hall of Fame case, and his Yankees career plays a significant part in that.
Stretch our pitcher WAR list back to 1961 (the start of the expansion era), and Mussina still ranks 10th, right on par with Hall of Famers Steve Carlton (ninth), Ferguson Jenkins (T-11th), Nolan Ryan (T-11th) and Bob Gibson (14th).
Stretch it back to 1920 (the start of the live-ball era), and Mussina is in the No. 12 spot.
Mussina was a pitcher who was even better than his basic stats. And his basic stats are pretty good.
Although he didn't win 20 games until his final season, Mussina won 15 games or more 11 times, and they were well-earned wins -- nine of those seasons, his ERA, pitching in the American League East, was 3.51 or less.
He won seven Gold Gloves, and although he was in the top three in Cy Young voting only once, he was in the top three in the AL in WAR five times.
The one ding on Mussina's record is that he gave up a lot of home runs (376). But he offset that with a strikeout-to-walk rate of about 3.5-to-1 over more than 3,500 innings. For those wondering, he rates 15th best in the live-ball era in FanGraphs' version of WAR (which is based primarily on strikeouts, walks and homers), just about even with Curt Schilling and John Smoltz.
Most Seasons With 4+ WAR
Pitchers Since 1920
Mussina doesn't have the signature postseason numbers Schilling and Smoltz do, but he had a few very good moments.
Had the 1997 Orioles won the World Series, Mussina's postseason run of seven two-hit innings, seven three-hit innings with 15 strikeouts and eight one-hit innings with 10 strikeouts would be put alongside Schilling's 2001. Instead, it's not the first that comes to mind when memorable-performance lists are made.
Mussina also might be on a higher pedestal had the 2003 Yankees won the World Series. Mussina came through with three huge scoreless innings in relief of Clemens in Game 7 of the AL Championship Series and put the Yankees up 2-1 on the Marlins by winning Game 3 in Florida.
Mussina's Yankees career might have been better than his 3.88 ERA with the team gives him credit for. He's not a first-tier Yankees great, in the class of Mariano Rivera, Whitey Ford, Andy Pettitte and Ron Guidry, but it's reasonable to put him in the next grouping with some pretty good company.
Mussina has the 12th-most wins and sixth-most strikeouts in Yankees history, and his 4.0 strikeout-to-walk rate is second among the 87 pitchers who have thrown at least 500 innings for the Yankees (two one-hundreths of a point behind Rivera).
Mussina had five seasons with the Yankees in which he was worth four or more wins above replacement (four is generally considered a hair below All-Star level), tied with Guidry and Ford for the most in club history. Mussina also has the same number of five-WAR seasons as Pettitte (two).
In short, Mussina was a really good Yankee. And a great pitcher. We'll see at this time next year how well people choose to remember that.