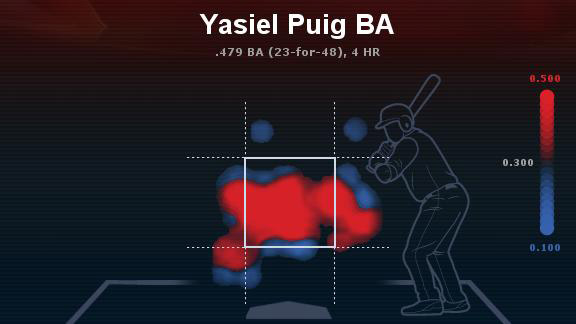 Yasiel Puig will be a big challenge for the Yankees this series.A look at a few of the many statistical storylines for tonight's matchup between the Dodgers and Yankees in the Bronx.
The Dodgers finally come to New York
This will be the Dodgers' first regular-season game in New York after a pair of interleague series in Los Angeles, in which the teams split six games.
Dodgers-Yankees Rivalry Moments
Their most recent meeting was June 27, 2010, a game in which the Yankees rallied from four runs down in the ninth inning against Dodgers closer Jonathon Broxton, then won in the 10th inning on Robinson Cano's two-run homer.
The Dodgers are currently dealing with some significant issues closing games, among their many woes this season. Their 15 blown saves are the most in the majors and they recently moved Brandon League out of the closer role in favor of Kenley Jansen.
The teams have a long and storied postseason history. The most memorable moments from that rivalry are listed in the chart on the right.
Phil Hughes stats to watch
The Yankees have lost Phil Hughes' last two home starts (12-2 to the Mariners and 11-1 to the Red Sox). Hughes has made six home starts this season -- three have been really good and three have been awful, matching the inconsistency he's shown this season.
Hughes had a weird quirk in his last start: He walked five batters, four of them on full counts. Hughes may have been overthrowing. He threw 29 pitches to the top of the strike zone or above and missed up and in, up and away, or over the top of the zone on 19 of them. That's an area where Hughes typically gets strikes two-thirds of the time.
Hyun-Jin Ryu stats to watch
Ryu is another impressive Dodgers rookie, though in a more modest way than Puig. He is 3-0 with a 1.94 ERA in his last six starts, in which he's only allowed two home runs.
Ryu is a pitcher with reverse platoon splits, meaning he actually fares better against right-handed hitters than left-handed hitters. He succeeds with four pitches, throwing his fastball to righties about half the time, mixing in very effective changeups and sliders, and a curveball.
Righties are hitting .177 with a .485 OPS against him in this six-start stretch, with lefties at .385 and .878.
That bodes alright for Brett Gardner and Ichiro Suzuki, both of whom have good numbers against left-handed pitching in the first two months.
Perhaps it also bodes well for Robinson Cano.
Cano is just starting to come out of his slump against left-handed pitching. He's 4-for-his-last-10 after a stretch in which he was 6-for-44. Cano has not homered in his last 54 at-bats against lefties after hitting four homers in his first 49 at-bats against them.
Yasiel Puig: newest MLB phenom
Cuban-born 23-year-old outfielder Yasiel Puig has made a major splash in his first 13 major-league games, with 23 hits, the same number that Yankees legend Joe DiMaggio had in his first 13 games. The Elias Sports Bureau notes that Puig's 23 hits are one shy of the most by anyone through 13 games in baseball's modern era (since 1900).
Puig has gotten hits everywhere but one area -- the upper-third of the strike zone (or above). He's 0-for-6 when an at-bat ends up there.
That's something that Hughes may be able to work to his advantage if he can maintain better control than his last start (as detailed above). Hughes throws pitches to that area against right-handed hitters at a 36 percent rate -- fifth-most often of any right-handed starting pitcher.