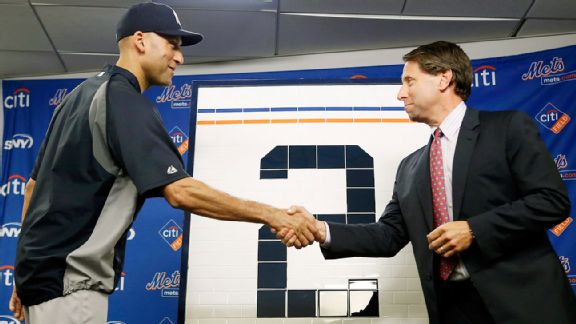 Associated Press
Jeff Wilpon presents Derek Jeter with a 75-pound subway tile mosaic featuring his number.NEW YORK -- What do you give the man with five World Series rings?
If you're the New York Mets, you give artwork.
The Mets presented Derek Jeter with the gift -- a No. 2 mosaic designed using subway tiles -- at a 5 p.m. ET ceremony in a conference room, not in an on-field ceremony. They handled Chipper Jones' and Mariano Rivera's retirement ceremonies the same way. The Mets also donated $22,222.22 to Jeter's Turn 2 Foundation charity.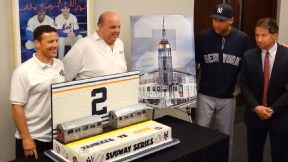 Adam Rubin
The Mets had the folks from "Cake Boss" in Hoboken, N.J., prepare a custom cake recognizing Jeter's final Subway Series game."For all the great work you've done and the Turn 2 Foundation, we figured we'd put a lot of 2s on the check," Mets chief operating officer Jeff Wilpon told Jeter during the ceremony.
Wilpon stumbled slightly over the amount, and Jeter asked if the check was for "$222.22."
"Two hundred and something?" Jeter quipped.
"No, no, no," Wilpon said.
Jeter adds the retirement gifts to his growing collection.
The Houston Astros gave Jeter a pair of Yankees cowboy boots, a cowboy hat and some golf lessons. The Los Angeles Angels gave Jeter a paddle board. The Milwaukee Brewers donated $10,000 to Jeter's Turn 2 Foundation and presented him a bronzed bat.
"There's been a lot of history, starting from 1997 when interleague play started and all the excitement about Yankees-Mets," Jeter said. "And it doesn't get any bigger than the World Series. But I have a lot of great memories here. It's been fun playing in these series. Like I've always said, the fans are very energetic on both sides. That makes it very fun for us as players to go out there and compete. So I want to say thanks to the Wilpon family. It's very much appreciated. It's unnecessary. I was just joking about the check. But that means a lot to me. I think a lot of people know how much the foundation means to me. So for you to do that, I really appreciate it. I can't thank you enough."
Asked for his greatest memory against the Mets, Jeter added: "Well, it doesn't get any bigger than playing in the World Series against them. I think that was something I think the whole city was pulling for -- going through the playoffs that year. And then for us to get the opportunity to play that exciting series -- we won that series, but a lot of those games could have gone either way. They were close games. It definitely stands out the most.
"And then the first time we played them, because the buildup to that, it seemed like it was a playoff game, even though -- I don't know the dates -- but I'm sure it was May or June of that year."
Someone told Jeter the day the Mets gave Rivera his gift last year, the iconic closer blew a save.
"Did he?" Jeter said. "Well, I won't blow a save. I know that much."