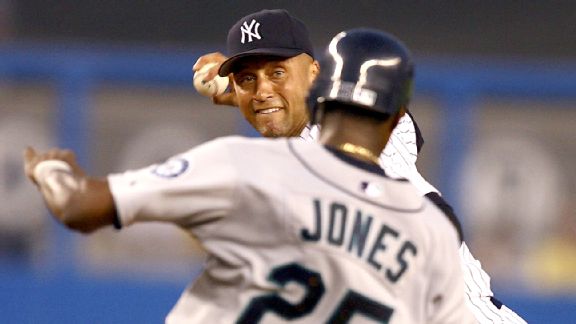 Al Bello/Getty Images
Derek Jeter has been the picture of intensity on both sides of the field. All season we'll be tracking Derek Jeter as he prepares to play in his final series against each team. Next up on the list is the Seattle Mariners. The Yankees start a series with the Mariners on Tuesday.
Career Statistics vs. Mariners
Regular Season
.281 BA
189 hits
98 runs
19 HR
77 RBI
16 SB
166 games
Postseason: .231 BA, 2 HR, 9 hits, 11 games
By the Numbers
• Jeter's .281 batting average and .343 on-base percentage against the Mariners are both his lowest marks vs. any AL team (excluding Astros).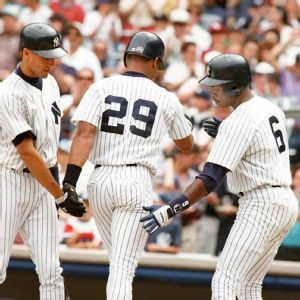 Jon Levy/AFP/Getty Images
That guy on the left congratulating Gerald Williams (middle), it's Derek Jeter circa 1995 from a game against the Seattle Mariners.• Jeter hit .247 in 20 games at the Kingdome, his worst batting average at any ballpark where he played at least 10 games.
• However, he has hit much better in 60 games at Safeco Field, with a .316 batting average there. The only player with a higher batting average at Safeco and at least 60 games played there is Ichiro Suzuki (.320).
• According to the Elias Sports Bureau, Jeter and Ichiro have played head-to-head 96 times. In those games, Jeter hit .287 while Ichiro hit .318. Jeter had more hits than Ichiro in 32 of the games, and Ichiro had more hits than Jeter in 37 of the games.
• Jeter has four career five-RBI games, and his second one (first at home) came against the Mariners on May 7, 1999 in a 10-1 Yankees win. His career high for RBI in a postseason game is three, done against the Mariners in 2000 and the Twins and Red Sox in 2004.
• Jeter's only career come-from-behind, game-tying home run in the seventh inning or later on the road came in Seattle on May 5, 2004.
The Yankees were down 6-0 after the second inning in this game but rallied to eventually tie the game in the seventh inning thanks to Jeter's two-run blast off Julio Mateo. The Yankees scored again in the eighth inning and went on to win 7-6.
• Jeter's .231 batting average in the postseason against the Mariners is his lowest vs. any AL team.
They Said It
"Derek Jeter was one of the greatest players, one of the best of all time. He always played hard. Everyone around him, he made them better. I came up as a young player and he taught me how to be a leader. He was a guy you learn a lot from, a guy you always want to be around. Everything that happened in his career, he deserved it."
-- Mariners second baseman, Robinson Cano, Jeter's teammate from 2005 to 2013
Jeter's Best
May 29, 1995 - Jeter put on the pinstripes for the first time in a major-league game, playing shortstop and batting ninth for the Yankees in Seattle against the Mariners. Jeter went 0-for-5 in his major-league debut as the Yankees lost 8-7 in 12 innings.
May 30, 1995 - One day later Jeter finally got his first major-league hit, a single to left field in the fifth inning off Tim Belcher. Jeter finished the game 2 for 3 with a walk and two runs scored.
August 16, 2009 - 14 years after his first major-league hit against the Mariners, he reached another hit milestone in Seattle again. This time it was his 2,675th hit as a shortstop, passing Luis Aparicio for the most hits by a shortstop in major-league history.
Katie Sharp writes for the Sweet Spot blog "It's About the Money." Mark Simon is a researcher for ESPN Stats & Information.