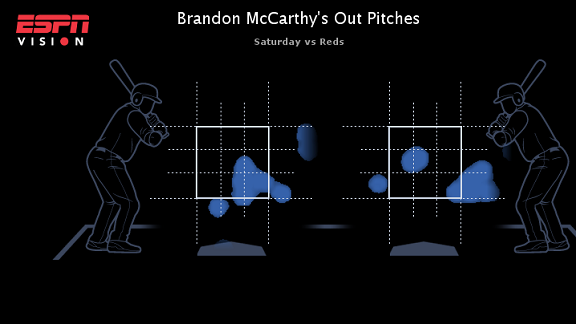 Brandon McCarthy did a nice job keeping the ball low and got the Reds to swing at some bad pitches.Score one for Fielding Independent Pitching. And for smart pitching, as well.
Brandon McCarthy made his Bronx debut with the Yankees a successful one in a 7-1 win over the Cincinnati Reds.
McCarthy struck out nine and walked none, limiting the amount of work his defense would have to do behind him in his six innings.
The various stats that serve as ERA predictors, such as the aforementioned FIP and xFIP, which rely on strikeouts, walks and home runs (or fly balls) allowed have indicated that McCarthy's ERA should be at least a run lower than the 4.80 with which he entered the game.
He's shown that in his past four starts, posting a 1.78 ERA in his last two games with the Arizona Diamondbacks and first two with the Yankees.
McCarthy took advantage of a Reds team that was overeager, and that doesn't fare well when it chases pitches. Reds hitters entered the day hitting .145 in at-bats that end with pitches out of the strike zone. That ranked 28th in the majors, ahead of only the Chicago Cubs and San Diego Padres (for reference, the major league average on such pitches entering the day was .167).
McCarthy lured the Reds into swinging at 23 of 51 pitches out of the strike zone, to good results. The 45 percent "chase rate" (how often they swung at a pitch out of the zone) was a season-high for him and his third-best rate over the past three seasons. It was the second-highest chase rate this season by the Reds against any starting pitcher this season (they had a 53 percent chase rate against Zack Greinke on May 27).
The Reds were 2-for-13 when chasing against McCarthy on Saturday.
Brandon McCarthy vs Reds
Past 2 Seasons
This was a nice rebound for McCarthy, who had allowed 12 runs in 6 ⅔ innings in his previous two starts against the Reds.
In those two games, the Reds feasted on McCarthy's sinker, getting 12 hits in 22 at-bats ending with that pitch.
On Saturday, McCarthy located it far better (check out the last number in the chart on the right, which focuses on pitches in the lower-third of the strike zone or below the knees), and the Reds were 4-for-15 with five strikeouts against the pitch.