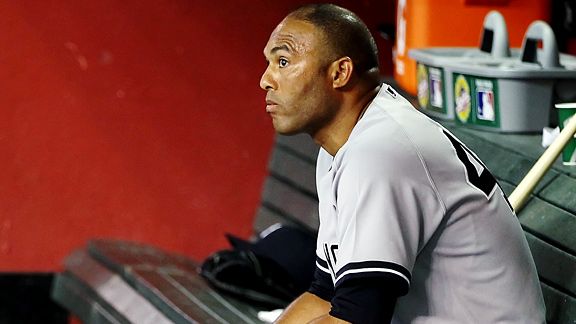 Christian Petersen/Getty Images
Mariano Rivera has had plenty of time to sit and watch this season, which puts him in position to be fresh for September and October.
Phil Hughes threw more pitches in just over four innings on Wednesday than Mariano Rivera has thrown all month.
That tells us a couple things, and we'll save that which it says about Hughes perhaps for another time.
But what it says about Rivera and his 99-pitch August is that he is well rested.
Rivera has only had 27 save opportunities this season, converting 25. That's a low total, unusually low for the majors this season. Consider that Rays closer Rafael Soriano has pitched in four more games than Rivera, yet has 13 more saves.
Last season, Rivera had 46 save opportunities. Barring a significant change in the way Yankees games have gone, he won't come anywhere near that total for 2010.
Rafael Soriano/Mariano Rivera
Entering In Save Situations (2010)
That's partly a product of the way the Yankees have played this season. They rank near the bottom of baseball in wins by three runs or less (32, tied for third-fewest) and lead the majors in wins by 5+ runs, with 29.
It's also a product of the Yankees being careful with Rivera, resting him as needed, sitting him out for a few days when minor injuries necessitate such action. Remember, he sat out the All-Star Game this season.
This comes in a season that, ERA-wise (1.18), is the best of Rivera's career. That's the product of Rivera doing something well this year that he actually hadn't done well the last couple of seasons -- pitch well in non-save situations (an 0.45 ERA in 20 innings).
4+ Out Appearances
Prior to September (last 5 seasons)
Despite the fact that the Yankees and Rays are currently even in the standings, there hasn't been a high-stress need for Rivera much this season. He's only had three games in which he's pitched more than an inning, far fewer than the norm for him.
The Yankees have only had to use Rivera without a day's rest 10 times so far in 2010. In 2009, they used him twice as often. In 2008, 21 times.
The funny thing is, when he's used in that rest-free appearances. Rivera pitches like a man in his 20s, not like one in his 40s.
From a perusal of Baseball-Reference.com, over the last three regular seasons, Rivera has pitched without a day's rest, 51 games, a total of 51 innings.
Do you know how many runs he's allowed, earned or otherwise? Three.
That includes none in 9 1/3 such flawless innings this season.
So if you're a Yankees fan, you can grumble about your team having no mo(as in momentum) at this time of the season. Or you can look on the bright side and realize you have plenty of Mo (as in Rivera) for the most important time of the year.