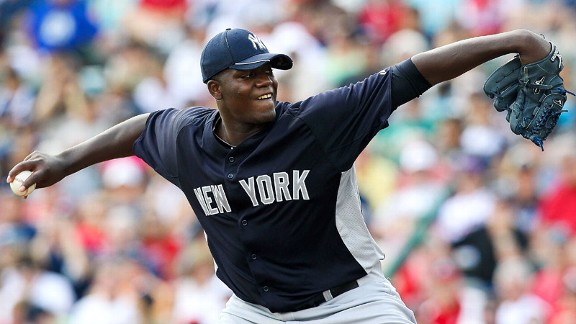 Daniel Shirey/US Presswire
Could Michael Pineda start 2012 in the minors? It's not out of the realm of possibility.
Note: This post was was written prior to Freddy Garcia's injury.
When I look at what the Yankees may do with their starting staff, the more I think about it the more I think Michael Pineda could start the season in the minors.
Now, let me preface this with the following disclaimer, Joe Girardi said the real evaluation process starts now -- so if Pineda looks great against the Nationals on Thursday and for the rest of the spring, this could become moot.
So far, though, there have been real questions about his weight (10 pounds too many), his fastball (two or three mph too slow), and his ability to handle New York. If this continues and the Yankees have no injuries to their starting pitching, it stands to reason that Pineda could be the odd man out.
The Yankees are, first and foremost, about 2012. Who can help them the most at the start of this season?
CC Sabathia and Hiroki Kuroda are already in the rotation. Ivan Nova, a 16-game-winner, would have to fall apart to not be the No. 3. Phil Hughes is in shape and has had more success than Pineda at the major league level. Freddy Garcia is steady Freddy.
Girardi has acted as if the man left out of the rotation will head to the bullpen. I tend to doubt that unless it is Hughes -- and, even with Hughes, I can see a scenario where you might rather have him stretched out at Triple-A for the inevitable injury that will necessitate a starter.
"That's a possibility," Girardi said. "Some of the guys have options if that is what we need to do."
Pineda, Hughes and Nova have options.
If Pineda doesn't show control of 95-96 mph stuff, then wouldn't the Yankees and Pineda be better served if he worked on things under the lesser microscope of the minors? It is one way for the Yankees to contain expectations, while continuing to foster Pineda's growth.
It might annoy some Jesus Montero fans in the short term, but could be the right decision in the long term.
Pineda is a bit overwhelmed by New York. This morning, one of the first things he mentioned to me was the media. He can't get over it. (I'll have more on this in tomorrow's First Pitch.)
When you think about it, it is hard to blame him. It is intimidating to be asked questions in a language you only started learning four years ago. He comes across as a nice guy, but he is very young and has only had a half of a good season -- and, granted, he was great in the first half of last season.
"This is not a kid who is 27, 28 years old," Girardi said.
The Yankees know that Pineda's velocity needs to be a little higher soon. Girardi said the red flags aren't fully up because there was improvement from the first start to the second. Pitching coach Larry Rothschild added that big starters generally take longer to get going.
"Some guys are just a little bit slower in coming along than others," Girardi said. "We haven't had him in spring training to really know how he is. We don't want him to conserve, but we also want him to make sure he is ready to throw 95, 96 when he is ready. I don't want him to just go out there and air out just so he can hit 96 on the gun."
Rothschild added, "You can see where the arm strength can increase. It's been okay. He's been up to 93, 94. I think as a power pitcher it comes as spring goes for him, but everything is in place for him to be ready to go."
In the second half of last year, Pineda struggled and that has continued thus far this spring.
"It is still early," a scout said.
This is true. Pineda could be lights out tomorrow, but I think there are good reasons to believe that if he doesn't earn his spot it won't be given to him.