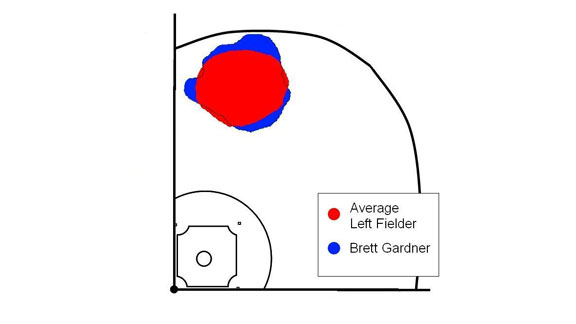 This image shows the difference between Brett Gardner's defensive range and that of an average leftfielder. The difference is what makes Gardner an elite defender.
In the sixth inning of Sunday night's Yankees-Cubs game, Brett Gardner made a sprinting catch of D.J. LeMahieu's fly ball into the left-center field gap, thwarting a bid for an extra-base hit. It was the kind of play that Yankees players and fans have gotten used to seeing from Gardner the last two seasons.
It was the kind of play that defines Gardner's value as a baseball player.
Gardner is in the midst of a hot stretch, reminiscent of when he was at his best in 2010. A recent article on Fangraphs.com noted that by Wins Above Replacement, Gardner rates among the best players in baseball since the start of last season.
Gardner's defensive value is what carries him to that sort of rating. Last season, he finished third among leftfielders with 13 Defensive Runs Saved, a stat devised by Baseball Info Solutions (BIS) that combines a fielder's ability to turn batted balls into outs, along with his skill at deterring baserunner advancement. This season, Gardner entered Wednesday with 14 Defensive Runs Saved, matching Gerardo Parra for the major league lead,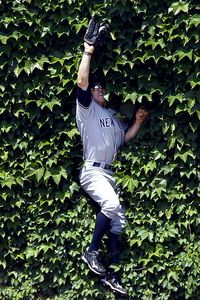 AP Photo/Nam Y. Huh
Gardner's ability to chase down the deep fly ball is key to his value
What does a catch like the one Gardner made Sunday do for his defensive value? I checked in with people who watch baseball every day for a living to get both the statistical and human perspective.
The Hitter
Baseball Tonight analyst John Kruk knows what LeMahieu felt like. He'd experienced the feeling several times previously in his 10-year major league career, in which he registered 1,170 career hits. A guy like Gardner is a batting average thief.
"It can be very frustrating for a hitter," Kruk said. "Barry Bonds was the same way that Gardner was. Barry took a lot of hits away because he played so shallow and could go back and get balls. Now, as a hitter, you're trying to swing harder and hit the ball over his head the next time up. Yes … it can be very frustrating."
The Pitcher
ESPN's Rick Sutcliffe and Orel Hershiser combined for 375 major league wins in their big league careers. Plays like Gardner's were huge helps in getting them to that total.
"The most exciting thing for a pitcher is when a guy like that takes a ball away from somebody," Sutcliffe said. "When a middle infielder makes a nice play, it's usually just preventing a single. But with an outfielder, balls like that are doubles and triples."
Hershiser defined the value of that sort of outfield play in four words.
"It's a game changer."
Most Defensive Runs Saved
Leftfielders in 2011
The Shortstop
Our newest Baseball Tonight analyst, Barry Larkin, played more than 2,000 major league games at shortstop. He had leftfielders behind him, both good and bad. He knows into which category to put Gardner.
"I watch his routes," Larkin said. "I see good, direct routes. He cuts balls off that are base hits in the gaps, and he catches the fly balls that are hit to the gaps. Watch him before the pitch is made. He'll take an anticipatory approach like an infielder, rather than wait to take off after the ball is hit. Some guys are fast. Some have applicable speed. Brett has applicable speed.
What Gardner has is the ability to give his teammate's peace of mind.
"The most important thing for a shortstop is the consistency of the outfielders," Larkin said. "You want to know the range of the outfielders and know that if you go back on a ball, you're not going to run into him. If you have that, then when a ball is hit to a certain spot, you can prepare for what happens after the play is made.
"The best thing is that if the ball is hit over my head," Larkin said, "I don't have to worry about it at all."
The Centerfielder
Doug Glanville takes pride in that he earned the highest rating possible in the baseball board game Strat-O-Matic for his defensive play in left field in his first full season, 1997. He knows what it's like to be Gardner, a leftfielder in a centerfielder's body.
"It's like you're a caged animal waiting to be set free," Glanville said with a laugh. "You run out of room sometimes with the foul territory to one side of you."
Glanville eventually was set free, to the point of playing 885 career games in centerfield. So he also knows what it's like to have a guy like Gardner positioned on the other side of him.
"It's a beautiful thing for a centerfielder to have a guy like Gardner playing in left," Glanville said. Any time you have a corner outfielder with exceptional range, it allows you to cover that much more ground to the other side. As a centerfielder, you're constantly weighing the skill sets of your other outfielders. If you position yourself right, with a guy like that in left, that's a lot more outs."
"One of his biggest assets is that because of his speed, he's able to keep runners already on base from advancing an extra base," Glanville said. "If you have a guy who can cut off that one extra base, that's gold. To demand that the offense get another hit to score a run. That's a HUGE amount of pressure to put on the opposing team."
The Scout
We talked to a long time scout who has seen Gardner not just in the major leagues, but throughout his professional career. He knows people who know Gardner well. Though he didn't rank Gardner the best defensive leftfielder in the game (Carl Crawford earned that honor), he had no hesitation calling Gardner a top-five leftfielder, due to his maximizing what he does best, and his work ethic.
"He's in the upper echelon largely because of his speed and how hard he works at his game," the scout said. "Normally, a team tries to hide a defender in left field, but not him. He's got so much speed that it enables him to correct misreads on balls in any direction. He has that something that a lot of leftfielders don't have."
"It's tough to get kids to commit to defense, because they're always working on their hitting," the scout said. "Defense is a hard sell because of the amount of work it takes to be good. And there's no tangible stat you can put in a box score, other than errors, to show them."
The Stat Guys
At BIS, baseball watchers are trained to plot the locations for every ball put into play in a major league game. Someday, there will be computer technology that does this, but for now, the best we have is human approximation. Regardless, the Gardner breakdown is impressive.
BIS estimates that a fly ball, hit to the spot where LeMahieu hit it, is turned into an out by the leftfielder just 17 percent of the time. Gardner gets a credit to what is called his Plus-Minus rating of .83, because he got an out on a ball in which 83 percent of leftfielders failed to do so.
Since the history is that a ball hit to that spot, at that speed, is almost always a double, the value Gardner's play gets multiplied by two (if it was a triple, it would get multiplied by three). He gets credit for 1.66 bases saved. That figure is combined with stats compiled on how frequently baserunners advanced extra bases on balls fielded by Gardner to get a Runs Saved total.
At the top of this article is an image of an average major league baseball field. The red circle represents the area in which leftfielders get to more than half of the balls hit, that are in the air for three to four seconds. The blue area represents the balls that Gardner gets to, under the same parameters, more than half the time.
BIS also embarks on one other form of analysis—video scouting. They have a staff of former college and pro players who categorize Good Fielding Plays and Defensive Misplays into more than 80 categories. Gardner's catch of LeMaheiu's fly ball was a GFP-Fly Ball Out. It was his 12th such play on a fly ball of the season. That ranks among the best in the major leagues. The five times he's registered a GFP (Good Fielding Play)- Preventing Hitter or Runner From Taking Extra Bases- are the most in the majors.
In Summary
In the grand scheme of things, what does all of this add up to? It's actually pretty simple. The numbers tell us what our eyes do. Gardner can play the game at an impressive level.
We go back to what ex-major league manager Bobby Valentine said on the Sunday Night Baseball telecast immediately after Gardner's impressive snag.
"This is a guy who is going to be in a major league lineup for a lot of years to come."