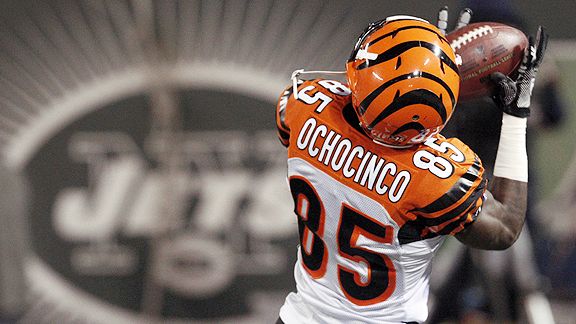 Ed Mulholland/US Presswire
When Chad Ochocinco visited the Jets on Jan. 3, his output was limited to this catch in warmups.
Give Chad Ochocinco a microphone and a forum, and you're going to be in for a treat. The Cincinnati Bengals' chatty wide receiver spoke Tuesday to the New York media, addressing a variety of topics in anticipation of Thursday night's game at the New Meadowlands Stadium.
Ochocinco is mired in a 2-8 season, but he was as upbeat as ever, starting the conference call by saying, "I love New York!" He also loves Terrell Owens. And Darrelle Revis. And Antonio Cromartie. And Santonio Holmes. And Mark Sanchez.
Yes, Sanchez.
Ochocinco, always known as an exciting player, was asked if he sees Sanchez as the same.
"What do you mean? We're both Mexican. Of course he's exciting," said Ochocinco, formerly Chad Johnson. "That's my carnale. He's good, man. He's good. To be able to come into that atmosphere, that environment in New York, the monster that the media is there, to be successful, to be able to carry that weight on his shoulders … he's handling it perfect. He's handling it really, really well."
Things aren't going well for the Bengals, who dropped their seventh straight game in devastating fashion. They blew a 21-point lead to the Buffalo Bills, including a 17-point halftime edge. They lost 49-31. That's hard to do even if you're trying.
"That was ridiculous," Ochcocinco said. "In a game of Madden, on a video game in real life, if you're up 31-14 at halftime, it's impossible to come back. For it to happen in real life, it was unbelievable."
Ochocinco praised his rival, Revis, whom he faced twice last season in a seven-day span -- the final regular-season game and the wild-card game. In both cases, the pregame hype was off the charts, and Revis shut him down both times.
This time, Revis will be on Owens.
"Either way, it doesn't matter," Ochocinco said. "Cro is just as good. Cro is actually a little bit more difficult because he's so freakin' rangy and it's hard to gauge where he's at. It's like he's five yards away from you and he sticks his hand out and he can still touch you.
"Those are two guys I've studued to a tee," The Mouth continued. "I put more effort into studying those two than anybody else. In the NFL right now, they're probably the best 1-2 cornerback tandem. Period."
Ochocinco couldn't say enough nice things about T.O.
"I'm loving every minute of it," he said. "I'm playing alongside a legend. ... I've gotten a chance to play with one of the best to ever put on a football uniform. Period. I cherish every moment, every game, every bit of influence. … I knew him off the field, but now I'm learning of the animal, the monster he becomes when the whistle blows at 1 o'clock. Unbelievable."
Speaking of receivers, Ochocinco gave some love to Holmes, the Jets' new fourth-quarter hero.
"Santonio is what he's always been -- clutch," Ochocinco said. "Santonio is no different than giving Kobe Bryant the ball with 2.4 seconds to go with the Lakers. Period."