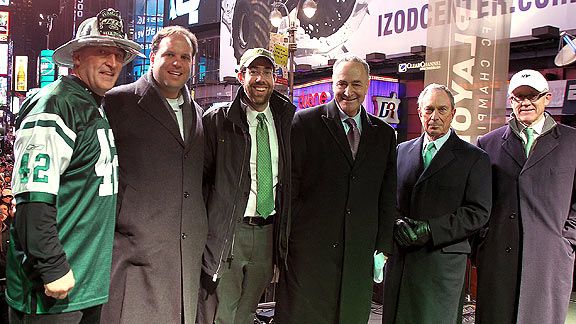 Al Pereira/New York Jets
Senator Daniel Squadron posing at a Jets rally with Fireman Ed, Mike Tannenbaum, Senator Chuck Schumer, Mayor Michael Bloomberg and Woody Johnson.
I am a Jets fan. A Long-Suffering. A bigger fan than an elected official with too much to do and never enough time should be.
I have to admit, I've tried to quit. On many winter days, after seasons good and bad, I've sworn off them: Getting too old for this. Too busy. Too crushed.
But I can't help myself.
Every year, when Sunday morning of Week One dawns, all is forgiven. The late-season collapses. The draft-day boos. The pre-season records. The swiss-cheese rosters.
On Week One there are no deficits. No losses. No heartbreaks.
On Week One there is a blank slate. Infinite possibility. Sixteen games in the next 17 weeks. Limitless opportunity. Maybe the Super Bowl.
Hope.
Jets fans are mocked for our sense of inevitable doom -- our conviction that disaster is forever lurking just down the field. But Jets fans are some of the world's great optimists. We believed in Parcells and Herm and Walt Michaels. (And, yes, Belichik for a morning.) Of course we did. But we also believed Leon Hess and Richie K. would win "right now." We believed in Camp Carroll, Joe Walton, Bruce Coslet, Al Groh-n and the Manginius. And we believe in Rex.
To be a Jets fan is to be a believer. It's to ignore the conventional wisdom or the odds, even logic. If you can wake up each Jets game day believing that this time will be different ... well, you can wake up believing anything. Jets fans start each season believing in the infinite possibility of a changed future. We begin each game believing in the limitless opportunity to shake off past failures and make today the beginning of something new and special.
The Jets have never been New York's favorite team, much less America's. But a city that requires such extraordinary audacity and perseverance, and a nation that needs a renewed faith in our ability to rise from a dark time, would be well served by internalizing the eternal optimism embodied by the chant: J-E-T-S, Jets, Jets, Jets! It is enough to give hope to a state senator in one of the country's most dysfunctional capitols, dealing with some of today's most seemingly insurmountable challenges.
I felt that hope, that optimism in the fourth quarter of the 12th game of the 1994 season, with the Jets 6-5 and winning. A fake spike and five straight losses later, my cousin called me.
"The Jets will not win a Super Bowl in your lifetime," he told me.
"Of course they will," I said. "Next year." (They lost 33 of their next 37.)
During Sunday's loss, Jets fans had that familiar sinking feeling: lots of promise, an emotional roller-coaster, a crushing conclusion -- Same Old Jets.
Rex was justified in mocking the phrase after the win in New England ("Same Old Jets -- we're going back to the AFC championship game two years in a row.") -- though it turns out he was being more literal than he would have liked. Things ended in exactly the same place as last year: a season that was better than most, but disappointing nonetheless.
Like Rex, I won't be happy until the Jets are playing through the end of the season. Until my cousin is proven wrong. Until the Same Old Jets are in the ticker-tape.
Next year, we'll get there. I know we will.
Daniel Squadron is a New York state senator representing the 25th Senate District in Brooklyn and Manhattan.