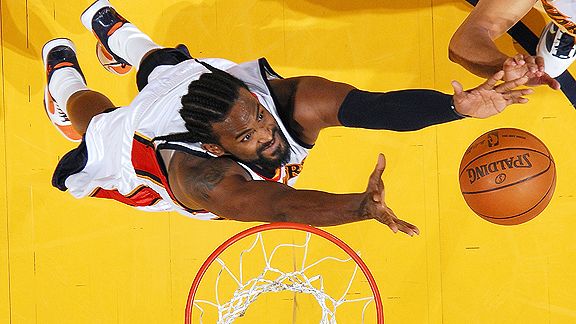 Rocky Widner/NBAE/Getty Images
Ronny Turiaf represents a major health risk but should be a legitimate low-post presence.
The finale of a three-part look at the players the Knicks acquired from the Golden State Warriors.
The Knicks entered the offseason with the scary proposition that Eddy Curry stood as their starting center -- not to mention the only one on the roster. But after signing Timofey Mozgov from Europe and trading for former Golden State Warrior Ronny Turiaf in the David Lee deal, the Knicks have three centers in the mix for a starting gig.
Oddly enough, Turiaf, who missed 40 games last season, is the most well-known quantity of the bunch entering next season but that doesn't make the situation less unstable.
Turiaf, 27, has a balky left knee that limited his availability last season to merely 42 games but even so, he'll fight for a starting job next season should the Knicks opt to slide Amare Stoudemire to his more natural position at the power forward. In addition to his knee issues, the French product had open-heart surgery five years ago to correct a serious heart condition discovered after he was selected in the 2005 draft.
Turiaf represents a major health risk going forward but he should provide the Knicks with a legitimate low-post presence they've long desired. He certainly hasn't carved out an five-year NBA career because of his scoring chops.
While Turiaf has almost no scoring skills on the block, it's worth noting that he doesn't waste possessions down there either. Among players who averaged 20 minutes per game last season, Turiaf used the eighth lowest percentage (11.3) of his team's possessions on a shot, foul, or turnover. According to Synergy Sports Technology, the 6-10, 250 pound Gonzaga alum only used 20 post ups last season during his 872 minutes of playing time. That selfless discipline keeps him in the lineup even if he's reliant on his teammates to hand him gimmes down low and put-backs off of misses.
The defensive end is where Turiaf shines. He may not be taller than Stoudemire and Anthony Randolph, but he's wide enough and quick enough to compensate for his vertical deficiencies at the five. He's particularly effective guarding the pick-and-roll as a lane-clogger against penetrating ball-handlers. According to Synergy data, opponents scored on only 34.8 percent of their pick-and-rolls against a tandem featuring Turiaf, ranking him third best in the league (league average is 40.3 percent). Furthermore, the Warriors were 4.5 points per 100 possessions stingier with Turiaf inserted into the lineup according to 82games.com.
The Knicks will rely on Turiaf to be healthy because he's one of only three true centers on the roster but luckily, the Knicks success isn't predicated on production from the center position. As is, the Knicks should have enough scoring punch in their starting rotation with Stoudemire, Danilo Gallinari, and Raymond Felton to swallow Turiaf's ineffectiveness on the offensive end. In a practical sense, Turiaf will be asked to balance Stoudemire's skill set on the court and Turiaf should fulfill that role just fine if he can stay healthy.
Tom Haberstroh is a regular contributor to ESPN Insider and an NBA analyst for Hoopdata.com. You can follow him on Twitter: @tomhaberstroh.