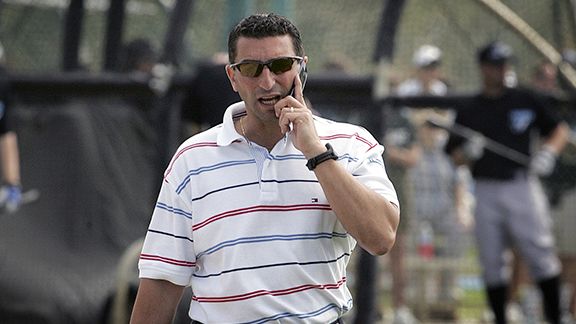 AP Photo/Keith Srakocic
Former Blue Jays GM J.P. Ricciardi joins the Mets' front office.
Former Blue Jays GM J.P. Ricciardi has been hired by the Mets. Here's the team announcement:
The New York Mets today announced that J.P. (John Paul) Ricciardi has been named Special Assistant to General Manager Sandy Alderson. From November 14, 2001 through 2009, he was the Senior Vice President, Baseball Operations and General Manager for the Toronto Blue Jays. Ricciardi spent last season as a baseball analyst for ESPN.
"J.P. brings a wealth of knowledge and a breadth of experience to the organization," said Alderson. "I worked with him for over a decade in Oakland and I know first hand he's a superb talent evaluator. He'll be a tremendous resource in a variety of areas."
In his new role, Ricciardi will assist Alderson in all aspects of the baseball department.
The 51-year-old worked for the Oakland Athletics for 16 years (1986-2001), including 12 years (1986-1997) when Alderson was the team's General Manager.
"I couldn't be more excited about being reunited with Sandy," said Ricciardi. "We enjoyed tremendous success together in Oakland and it's my goal to help duplicate that here with the Mets. As a former Met farm hand, it's a double homecoming for me."
Ricciardi played two seasons in the Mets minor league system after signing as a non-drafted free agent. In 1980, he was a teammate of current Oakland GM Billy Beane in the New York-Penn League with Little Falls and in 1981 he played for Shelby (A) of the South Atlantic League.