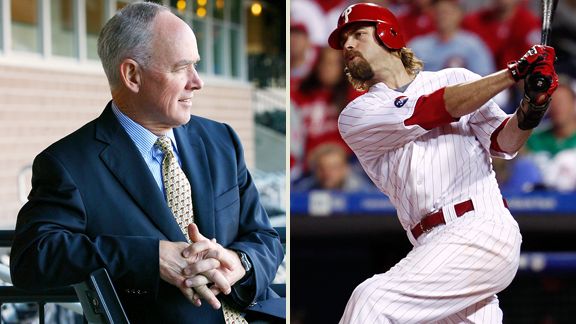 Getty Images
Sandy Alderson thinks the Nationals spent excessively to land free agent Jayson Werth.
GM Sandy Alderson arrived at the winter meetings at Disney on Sunday at 4 p.m., shortly before the Washington Nationals announced a seven-year, $126 million deal with free agent outfielder Jayson Werth.
Alderson, who doesn't have a ton of money to throw around, nonetheless wa surprised by Washington's winning bid.
"It makes some of our contracts look pretty good," Alderson said. "That's a long time and a lot of money. I thought they were trying to reduce the deficit in Washington."
Alderson said he has meetings scheduled with agents for Sunday night and with teams throughout the day Monday. Alderson noted he was one of the first GMs to arrive at the Dolphin Hotel.
It's no secret the Mets are looking for bargains. And even while expressing dismay at the Werth contract, Alderson allowed that he would rather be in the position where he could throw around those dollars.
"I'd rather be in a position to say 'no' than 'we don't have the flexibility to participate in discussions,'" Alderson said. "At least in that part of the market at this point we are interested onlookers."
Alderson added that "in some ways this is the worst possible time to be looking at free agents," citing the bidding frenzy that occurs at the opening of the winter meetings. He was even referring to low-level free agents.
He said: "The beginning of the winter meetings is always a little frenetic. While we want to be actively involved, one has to be cautious about an overheated market."
Alderson reiterated he is generally averse to giving two year deals this winter and "compromising some of our options" in terms of spending flexibility for next offseason.
As for whether he has honed in on certain free agent targets, Alderson expressed quite the opposite.
"You ever see those omni-directional radars?" Alderson asked. "They scan everything. That's where we are now."