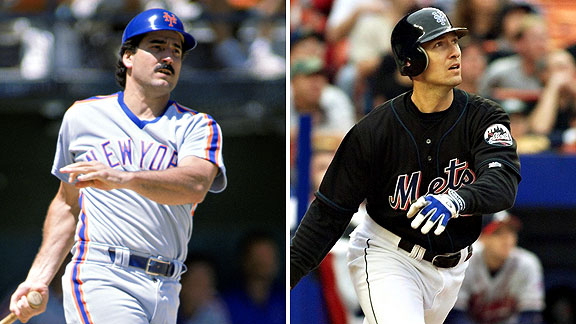 Getty Images
Keith Hernandez and John Olerud were clutch throughout their baseball careers. But were they Hall of Fame worthy?
There is a little ledge above my bedroom window, on which rests various pieces of sports paraphernalia.
On one end is a Starting Lineup figurine of John Olerud. On the other end is one of Keith Hernandez.
I bring this up because our Stats & Information Group is conducting its own Hall of Fame balloting.
Our rules are the same as those for the Baseball Writers' Association of America, with one exception --you're allowed to write in candidates no longer eligible for consideration by the actual voters. And on my ballot, I've included both Olerud and Hernandez.
Keith Hernandez and John Olerud
MLB Career
My vote is based partly on the eye test (which also allows me to vote for Jack Morris and Dale Murphy) and partly on the stat test (why I've also checked off Bert Blyleven and Tim Raines). I'll admit to being biased. Hernandez and Olerud are my father's two favorite Mets, so I've been subject to many lengthy discussions in which their virtues were extolled.
I vote for both rather than just one because the two are baseball's version of identical twins. Thus, if I think one is worthy, the other is as well.
Bill James devised a similarity score metric that allows you to compare players. Olerud rates as Hernandez's 10th-most similar player. Hernandez is Olerud's seventh-best comparison. But in my view, they're even closer than that. Consider the following:
Hernandez was the son of a minor league player.
So was Olerud.
Hernandez hit .296 in 17 major league seasons.
Olerud hit .295 in 17 major league seasons.
Hernandez walked a lot (11.2 percent of the time)
Olerud walked a lot (12.6 percent of the time)
Hernandez finished his career with a 128 OPS+
Olerud finished his career with a 128 OPS+
both had an OPS 14 percent better than league average
(thanks to the commenter who pointed out that it's 14 percent better, and not 28 ... 128-100, then divide by two)
Hernandez age 24 to 33 :.305 BA, 134 OPS+
Olerud age 24 to 33: .307 BA, 136 OPS+
Sabermetrician Sean Smith devised a defensive rating for players, Total Zone Runs, which uses play-by-play data from Retrosheet and accounts for nearly 60 years worth of games. I'm not going to pretend I fully grasp it, nor am I going to extol it as an end-all, be-all stat, but a look at the numbers gives me some basis for legitimacy. The players I'd think should rate near the top and bottom rate near the top and bottom.
Hernandez rates first among first basemen in Total Zone Runs.
Olerud ranks third among first basemen in Total Zone Runs.
In regards to their Hall of Fame candidacies, I am fully understanding of those who say that these were a pair of very good players, but ones not worthy of the game's top honor.
Former Mets on HOF Ballot
This Year
If you feel that way, I would encourage you to read the work of Chris Dial and Jack Moore, each of whom has done an impressive job in making the case for their legitimacy. A quick summary would be that both Hernandez and Olerud were great hitters and elite defenders compared to their peers, and each were integral parts of championship teams.
I want to add one more piece of analysis to their arguments.
A statistical measure, Leverage Index, measures the importance of every plate appearance relative to how much it can impact the outcome of a game.
The most important plate appearances would be in situations such as a tied or one-run game with men on base in the mid-to-late-innings. Those are categorized as high-leverage situations. The least important ones would be in blowouts, with no one on base. Those are low-leverage situations (there is also a category for in-between: medium leverage).
Using their Mets careers as examples, Hernandez's two-run single that cut the Red Sox lead from 3-0 to 3-2 in the sixth inning of Game 7 of the World Series, came in a high-leverage-situation.
Olerud's two-run go-ahead single against Braves reliever John Rocker in the eighth inning of Game 4 of the 1999 NLCS, also came in a high-leverage situation.
Hernandez reached base 40.1 percent of the time for his career in such plate appearances, including on-base percentages of .422, .486, and .445 from 1984 to 1986, three pretty significant years in Mets history.
Olerud reached base 40.7 percent of the time and had an on-base percentage of .395 or better in all three of his season with the Mets (all of which were playoff-contending teams).
Both of those rate as exceptional marks in the context of their eras (Hernandez slightly moreso, because most of his career came outside the steroid era and his primary ballparks favored pitchers).
I'm fully aware that the window of opportunity has closed on Hernandez, who never got even 11 percent of the vote in his nine years on the ballot, and he wasn't included in the recent Veterans Committee consideration list (in which the closest player to getting elected was a Hernandez contemporary, shortstop Dave Concepcion).
That same window is likely to close quickly on Olerud given that this year's candidate field is crowded with worthy potential inductees. Some voters are having a hard time limiting their choices to just 10 and the likelihood is that Olerud won't get the five percent necessary to be on next year's ballot.
But they're assured of at least one vote in our Hall of Fame voting. My window of opportunity is forever open to both of them.