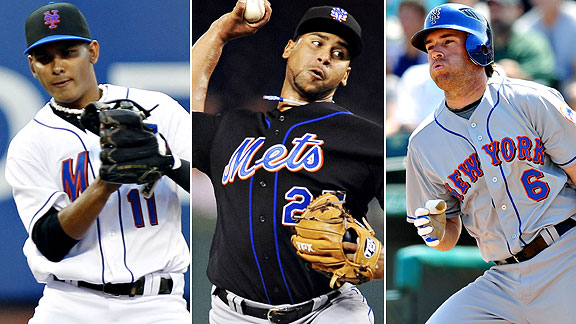 US Presswire
Reinforcements are on the way for the Mets: Ruben Tejada, Pedro Beato and very likely Nick Evans.
The Mets are recalling infielder Ruben Tejada from Triple-A Buffalo and activating right-handed reliever Pedro Beato from the disabled list, general manager Sandy Alderson said after the Mets lost to the Florida Marlins 2-1 in 11 innings on Monday night.
Alderson said Tejada will play second base and Justin Turner, the current starting second baseman, will move to third with David Wright out. Alderson, however, did not commit to playing Tejada at second base on a daily basis. Tejada has played sparingly at second this season. Overall, he hit .267 with three homers and 18 RBIs in 39 games at Buffalo.
Daniel Murphy, who previously started at second, was forced to play first after Ike Davis went down with an ankle injury last week.
Infielder Chin-lung Hu has been outrighted to Triple-A Buffalo, while right-handed reliever Ryota Igarashi has been optioned to Triple-A Buffalo.
Hu is hitting just .050, with one hit in 20 at-bats. He made the roster out of spring training because of his strong defensive play.
But, as Alderson noted, "the defensive strength ... is less of an asset for us today with the way that Justin Tuner (.318 BA) has played and the way that Murphy has developed and given the fact that we're without our two corners in the infield. We need some more consistency on offense off the bench and ultimately need somebody who can play second base on a regular basis."
Igarashi gave up the game-winning single to Marlins pitcher Burke Badenhop on Monday in the top of the 11th. He is 2-1 with a 4.63 ERA in 15 appearances. Igarashi said, through a translator, that Alderson asked him to pitch with better command.
"It's the walks, I need to improve the walks," he said.
Alderson also said that if third baseman David Wright is placed on the disabled list, Nick Evans will be promoted from Triple-A Buffalo to take his roster spot.
Evans has batted .248 with five home runs and 16 RBIs in 36 games with Buffalo.
That move is contingent on the results of a CT scan Wright (back) took on Monday night.
Beato was placed on the disabled list retroactive to May 2 with tightness in his elbow. He is 1-0 with a 1.00 ERA through 17 innings pitched.