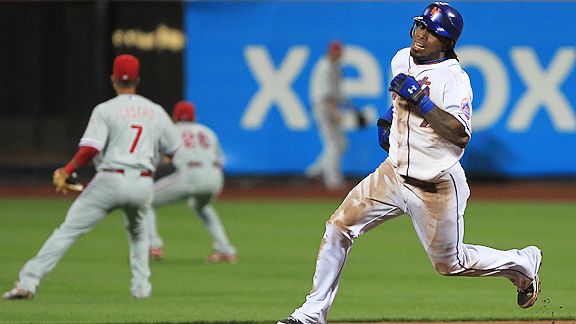 Chris McGrath/Getty Images
The presence of Jose Reyes creates all sorts of issues for opposing defenses.
What's the biggest thing to watch for with the return of Jose Reyes to the Mets lineup on Tuesday night?
There's a stat, one you've probably never heard of, but that shows Reyes' value in a manner that is difficult to measure. He's this year's major league leader in what we'll call BDMs. That stands for Beneficiary of Defensive Misplays.
Baseball Info Solutions (BIS) tracks Defensive Misplays, along with many other statistics, via video review at its offices in Coplay, Pa. (a city about an hour northeast of Philadelphia).
ESPN has begun using this data on its various platforms. You may have heard references to its work on Baseball Tonight and game telecasts recently.
BIS employs video scouts, a group of former minor league and college players, who use a tagging system to log more than 80 categories of plays into a database. They track Good Fielding Plays (GFPs) and Defensive Misplays (DMs).
There are more than 50 types of plays that are classified as Defensive Misplays, which are thoroughly defined by baseball stat pioneer Bill James on his website. For our purposes, they are simply plays in which the fielder's action or inaction results in a benefit to the batter or baserunner. There are rules that govern the scoring to help the logger with any decisions he/she may have to make.
Remember the 10th inning of the Mets-Braves game on June 16?
The Mets lost the game on D.J. Carrasco's balk, but the biggest play was the one that preceded it-- when first baseman Lucas Duda went into the hole to cut off Jordan Schafer's grounder that second baseman Ruben Tejada was on the verge of fielding.
Duda's decision left first base uncovered and resulted in Schafer reaching safely on a play in which he likely would have been out. Schafer got credit for a hit. Duda was charged with a DM-22: Cutting Off a Better Positioned Fielder.
Mets Leading Batters
In Benefiting From Defensive Misplay
Reyes, even after missing time to injury, is the major league leader in BDMs in 2011.
He was the batter, when one was committed, 30 times, by the judgment of Baseball Info Solutions' scoring system. Reyes entered the week with two more BDMs than Cubs shortstop Starlin Castro.
The most recent examples of Reyes benefiting from Defensive Misplays happened three times in a two-game span prior to his hamstring injury.
DM-33 Mishandled Ball After Safe Hit
In the first inning of the Mets loss to Tigers ace Justin Verlander on June 30, Reyes reached on a bloop hit to shallow right center field. He was credited with a double, but Baseball Info Solutions charged Tigers rightfielder Andy Dirks with a DM for kicking the ball away after it bounced in front of him, allowing Reyes to reach second base safely.
DM-3 Failure To Catch Line Drive
In the fifth inning of that same game, Reyes hit a line drive off the glove of Tigers first baseman Miguel Cabrera. The ball was hit hard and it's likely that every official scorer in the majors would have ruled it a base hit. Cabrera's reaction (pounding his fist into his glove immediately after the ball bounded away) was one of someone who likely knew that he could have caught the ball.
In the BIS world, scoring can be tough sometimes. But the rule generally is that if a fielder got his glove on a line drive or fly ball and didn't catch it, he gets a DM for failing to do so.
DM-40 Bad Throw
The next day against the Yankees, Reyes led off the bottom of the first inning by reaching on an infield single, a grounder between shortstop and third base on which shortstop Eduardo Nunez had an issue transferring the ball from glove to throwing hand, then airmailed a throw way over first baseman Mark Teixeira's head.
"He got nervous," said SNY analyst and ex-Mets Gold Glove first baseman Keith Hernandez on that night's telecast.
With Reyes' speed, it would have been difficult, but not impossible to get an out there. BIS rules are such that if the possibility of an out exists, the fielder can be charged with a Defensive Misplay.
It's Reyes' speed and his ability to put the ball in play that likely leads to him being the best in the bigs in this unofficial stat, which puts a value on something that is not easy to measure. It has an impact on his batting average and his slugging percentage when he puts the ball in play, and most significantly helps his team's chance of winning.
"(His speed) definitely makes an impact," said Baseball Tonight analyst and former Reds shortstop Barry Larkin. "As an infielder, someone like that throws off your rhythm and cadence at your position. A guy like that- he gets in your head."
He'll be back doing that, or at least trying to do that, tonight.
Dan Braunstein from ESPN Stats & Information and Ben Jedlovec from Baseball Info Solutions contributed statistical analysis for this story