David Wright, who is due to be activated from the disabled list on Friday and bat cleanup for the Mets in Miami, spoke with ESPN 760 in West Palm Beach. Here's a transcript of the conversation:
What it would feel like to play third base for the Mets without Jose Reyes next to him at shortstop:
"That's not something -- I don't really want to think about. Right now I'll put him up there with the best players in the game. I'll put him up against anybody, with just the dynamics that he brings to a team. He does everything in the game exceptionally well. He's having a ... sensational season, not just offensively but stealing bases, playing great defense, I think he has one of the best infield arms in the game. You know, we came up together, we grew up together, we've matured together, we've done a little bit of winning together; we've had our fair share of losing seasons, I think we've learned together and hopefully, you know, we're teammates for a long time to come."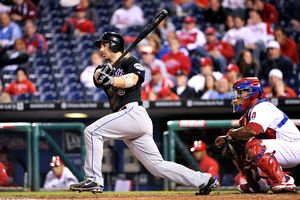 Howard Smith/US Presswire
David Wright is scheduled to be activated from the DL on Friday.
Is there a scenario in which both Wright and Reyes could play their entire careers together with the Mets:
"I don't see why not. Obviously I'm not the one writing the paychecks or making those decisions but I'd love for that to be the case. I would like to be considered part of the solution, not part of the problem. I hope that happens. It obviously starts with Jose. He's going to be a sought-after free agent after this year is over with, so hopefully we get him re-signed and start building."
If he were running a team, would Wright give Reyes a $150-$200 million contract:
"You look at the market and, obviously, I'm not an agent, I'm just the guy that plays to Jose's right, but you look at the market and you see what other players have gotten and you look at Jose and what he brings to the table when he's healthy. I just think that some of the other players that have gotten some of the contracts that they've gotten that Jose is just as much -- if not more -- deserving than those guys. So if you look at the market, then I don't think there's any question that he's going to demand a lot of money for a lot of years and the way he's playing this year, and how can you say he's not worth that or doesn't deserve that?"
The possibility of Reyes accepting a so-called "hometown discount" to stay with the Mets:
"That's something that Jose is going to have to decide on. I don't think I've ever necessarily heard the term "hometown discount" used in New York but its going to be up to Jose. I know that he lives in New York for the majority of the offseason. I know that he's kind of embraced that New York community, the community's obviously embraced him. I hope that whether it's kind of, give a little on both sides, meet in the middle type thing, I hope that it gets worked out. But that's a decision that obviously Jose is going to have to make that the organization is going to have make but, hopefully, as a big Jose Reyes fan, as a friend of Jose, I'd love to see him in the (Mets') orange and blue."
Perspective regarding the major on-field personnel changes the franchise is going through:
"I have to give credit to the front office, to this new front office regime that's come in. They've come in with a plan they seem to be sticking to their guns -- whether it's the popular choice or the trendy choice -- but they're going to stick to their guns, they're going to try to accomplish a goal and hopefully I'm a part of that plan. I grew up a Met fan, I came up through the system, I've been here through the good, the bad, the ugly, and I think it's going to mean that much more to me when we do win, knowing what we've been through, and it's going to be that much sweeter."
Whether or not anyone views Wright himself as "part of the problem" with the Mets:
"When you don't win I think you have to evaluate everybody. Obviously I'd like to think I'm a big part of those nine guys that take the field every day, or those eight guys that take the field every day and you have to be accountable, good and bad. I'll be the first to celebrate and to laugh and joke around when we were are winning and playing well and I'd like to think that I'd be one of the first ones to accept responsibility when the team isn't playing well or we don't do what I think we are capable of doing. ... I would like to think that I'm viewed and I view myself as a part of the solution moving forward but you never know in this game, and ... it's a tricky business and I know that I love playing for this organization I know that growing up a -- like I said I was a big Mets fan -- and I want to be here when we get this thing turned around and do what I think we are going to do."
The possibility that Wright was unfairly built up as the "face of the franchise" too early in his career:
"It's just accountability. I think so much gets thrown around with the face of this, that -- I want to be a leader for this team, I want to be a guy that through the good and the bad is that kind ofsolid foundation where you bring energy on a daily basis but you also you have to understand it's about consistency. I want to be there for the younger players that get called up and don't quite know what to expect playing baseball in New York and I want to be there for some of the older guys. ... (I want to) be that bridge that you kind of need in the clubhouse. Yeah I think I was prepared, I think that the organization did a phenomenal job in developing me, preparing me and I feel like if I can go out there and lead by example for the most part that guys will follow."
Perspective on Derek Jeter and Jeter's career in New York following his 3,000th career hit:
"There's no question that being kind of a relatively younger player in the league that there are certain guys that ... (have) an aura about them that you're kind of in awe of, and I don't think there's any question that he's at the top of that list. He's a guy that's done it all, he's a guy that's done it the right way and, most importantly, he's got a bunch of rings to show for it. So I think he's right up there at the top of the list. ... Being in New York, coming up with the New York Mets ... you look at certain guys you try to learn from them, and try to emulate them and no question he's up there at the top of that list."
How it feels to see the Mets succeed without being able to contribute on the field:
"A lot of credit goes to Terry Collins for the guys that have been filling in. You had Jose Reyes out for a few weeks, you had Carlos Beltran out a few days, Ike Davis has been out majority of the year. We have had guys that have stepped up and really done a tremendous job keeping this team going and, you know, really not only holding the fort down but continuing to play great baseball."