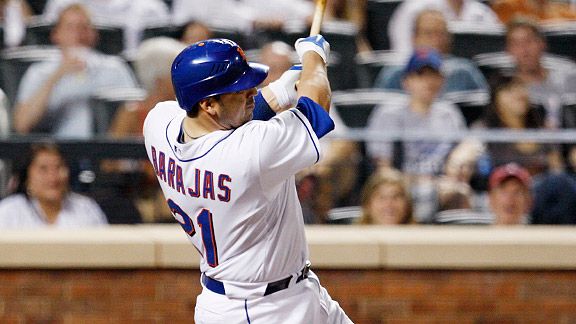 AP Photo/Kathy Willens
Rod Barajas is hitting .531 with seven homers and 18 RBIs in 10 games against the Phillies since playing with that club in 2007. He also injured his right wrist Wednesday, while producing three more RBIs.
Rod Barajas keeps getting beat up. And the Mets catcher keeps producing at the plate, particularly when the opponent is the Philadelphia Phillies.
Barajas contributed a second-inning sacrifice fly and a sixth-inning two-run double in the Mets' 5-0 win against the Phillies on Wednesday at Citi Field. He also took a blow to the right wrist while trying to block a bounced curveball from Jenrry Mejia in the seventh inning. X-rays were negative, but Barajas was uncomfortable afterward.
"Unfortunately it kicked up a little bit more than I thought," Barajas said. "… It's going to be sore. It's going to be swollen."
Barajas, who played for Philadelphia in 2007 when the Mets collapsed, is now 17-for-32 with seven homers and 18 RBIs in 10 games (nine starts) against his former club since departing.
"I think it's just coincidence," Barajas said. "I'm sure there are other teams in baseball that I have success against -- maybe not as much as I do the Phillies. I just go out there, regardless of the team, I try my best effort. I try to do something positive and productive to help the team out. For some reason it's been going a little better whenever we play the Phillies."
As for playing through discomfort, Barajas already had been doing that. He was whacked on his left, glove hand on May 7 on a botched pitchout by Mike Pelfrey with San Francisco's Eli Whiteside batting. Barajas is still bothered by a bruised left index finger.
"The swelling in my finger, it's gone down maybe minimally," Barajas said. "It's basically a bone bruise. And if you keep going out there and you keep getting pounded catching balls in that spot and in batting practice, it's not going to go away. I accept that. And I'm OK playing through pain. It's just a matter of rest. And right now I don't want to rest."
Barajas has plenty of motivation to gut through discomfort and prove himself. He went unsigned until the first week of spring training, when he chose the Mets over the Texas Rangers.
"The way the offseason went, it was very, very disappointing," Barajas said. "When you go unsigned up until the middle of February, when spring training is already started, I don't know what the reason was. But, for me, it's people kind of questioning what I can do in this game. Now's the time. I have the opportunity. I have the stage. It's on me to take advantage of it and do some good things. Fortunately, right now I've been doing OK."