R.A. Dickey made history Thursday night, as the Mets beat the Cleveland Indians, 6-4.
Dickey became the first starting pitcher in franchise history to be unbeaten, with at least five wins in his first six starts with the organization. He was charged with three runs (two earned) on seven hits while striking out seven and walking two and is now 5-0 with a 2.82 ERA.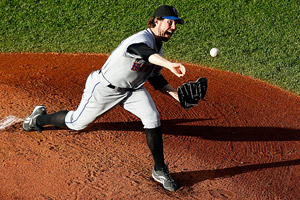 Jared Wickerham/Getty Images
R.A. Dickey reared back and threw the hardest version of his knuckleball Thursday. He improved to 5-0.
"I hate giving you the SportsCenter answer, but I'm much more interested in how we fare collectively," Dickey said. "But it's nice. It's better than starting 0-5."
Said manager Jerry Manuel: "We definitely didn't anticipate this coming out of spring training."
Pat Mahomes, working in relief, won his first nine decisions as a Met in 1999 and 2000.
Other pitchers to open their careers 5-0, but take longer than six starters or work in relief: starters Kenny Rogers (1999), Armando Reynoso (1997), Bobby Ojeda (1986) and Harry Parker (1973) as well as relievers Duaner Sanchez (2006) and Mark Guthrie (2002).
Mets starting pitchers are now 16-3 in their last 19 decisions and have lasted at least six innings in 21 of the last 24 games.
Dickey actually heaped credit on Dan Warthen. The pitching coach advised the knuckleballer in the fifth inning, after the Indians placed two runners in scoring position with none out, to just use the hardest version of his signature pitch. Dickey went on to surrender an RBI groundout to Travis Hafner. He then struck out Austin Kearns and Russell Branyan to maintain a 5-3 lead.
"Tonight was a little bit different," Dickey said. "I had a different knuckleball than I've had all year. What happened tonight was really the product of some good coaching. Dan came to visit me in the inning when they had second and third and nobody out and encouraged me to throw my hard one. I was kind of playing around there with trying to find the right speed for it. I couldn't see or feel where my consistent release point was. And he pointed out that all night it's been pretty good when I throw it in the 79-82 mph range. So I just reared back and started throwing some hard ones. That carried me through those last three innings.
"Really, I have to give credit where credit is due. He saw something and pointed it out to me and it ended up working. It's four or five mph faster than my 'comfort-zone' knuckleball. My slow one was moving. I just couldn't control it very well. And so I went to the hard one and it ended up working out. It was a good lesson to learn. I really feel like tonight was another step in that evolution of who I want to be. Learning how to make in-game adjustments such as that is what's going to keep me around."