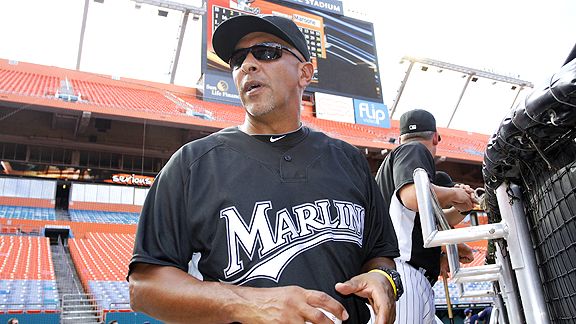 AP Photo/J Pat Carter
Interim Marlins skipper Edwin Rodriguez is the first Puerto Rican manager in the major leagues.
Count Jesus Feliciano among the people rooting for Edwin Rodriguez to remain the Florida Marlins' interim manager at least through the series against the Mets in San Juan from Monday-Wednesday. Rodriguez is the first Puerto Rican manager in major league history. He was Feliciano's coach a decade ago on the island with Bayamon.
"Hopefully he can get through those three days at least and have some fun and see what happens later on," Feliciano said.
ESPN's Tim Kurkjian reported that Bobby Valentine planned to have a phone conversation with Marlins brass on Friday instead of a face-to-face meeting and, "for the moment, it appears the process has slowed down." That seemingly would allow Rodriguez to manage the Marlins at Hiram Bithorn Stadium.
Feliciano is a compelling story in his own right. Not only is he a 31-year-old rookie, but he's also going to be able to play a regular-season major league game on his native island, 15-20 minutes from where he was raised.
"It's something that you cannot even explain it," Feliciano said. "Everybody is excited over there. They want to see all the big names like David (Wright) and (Jose) Reyes, and first of all, me -- being a great story. They're having a lot of fun since I got called up. A lot of friends are calling. Puerto Rico is a baseball country, so they're real excited about the series. I can't wait to get home."
The Mets have three other active Puerto Rican players: Angel Pagan, Pedro Feliciano and Alex Cora.
Cora suggested Wright may actually be booed in Puerto Rico.
"The only guy they might root against is David, because he beat us in the (World Baseball) Classic," Cora said, referring to Wright's two-run single in a three-run ninth in an elimination game in Miami in 2009. "I've been telling him the whole time to be careful."
Is Cora serious?
"No," the infielder initially replied, before adding: "Well, they might remember. You never know. He might be the only Met that is going to get booed pretty loudly when we get down there."
Feliciano and Cora both said the three-game series, which are Marlins home games, will be a celebration of baseball -- not just the Puerto Ricans.
"They like baseball and to watch us play -- just to watch the Mets," Cora said. "We have a lot of fans -- the same to see Hanley (Ramirez) and Josh Johnson. Obviously he's not going to pitch. I'm not mad at that."
The Mets are instead due to face Ricky Nolasco, Nate Robertson and Chris Volstad during the series.
As for Rodriguez potentially managing the Marlins in San Juan, Cora said: "It's still very important for how much history that we have -- just to have only one that really has managed a team. People are interested. At the same time, the thing they're more involved with is with the series. But it's another reason to go, to see the first Puerto Rican manager. That would be great. The thing is, he doesn't play. You see him in the dugout."
Said Feliciano, who once won a winter-league batting title while playing at the same stadium with Santurce: "We've got to go for one thing -- to win games."