Dillon Gee will make a small bit of Mets history when he opposes Washington Nationals right-hander Yunesky Maya on Tuesday.
It will mark the first time in Mets history both teams' starting pitchers will be making their major league debuts, according to the Elias Sports Bureau. The last time two starting pitchers debuted in the same game in the majors: April 9, 2009, when Detroit's Rick Porcello opposed Toronto's Ricky Romero.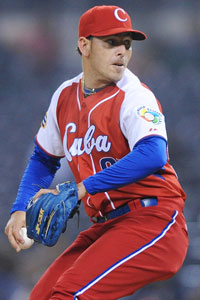 Christopher Hanewinckel/US Presswire
Cuban defector Yunesky Maya, pictured during the 2009 World Baseball Classic, makes his major league debut Tuesday opposite Dillon Gee.
While Gee is ecstatic to debut in place of Johan Santana, pitching successfully for a full season in Triple-A was an accomplishment in itself.
Gee had impressed Jerry Manuel in spring training in 2009, but a heavy workload the previous offseason that included the Arizona Fall League and winter ball in Puerto Rico caught up with him. Gee was limited to nine starts at Triple-A Buffalo before being shut down with a partial labrum tear.
He rehabbed the injury rather than undergo surgery. This season with Buffalo, he went 13-8 with a 4.96 ERA and set the Bisons' modern-era strikeout record with 165, in 161 1/3 innings.
"This year has been unbelievable, especially to end it here," said Gee, a 21st-round pick in 2007 from the University of Texas-Arlington. "The main goal was just to go out this year and prove that I'm healthy again and can still pitch. I think I've proved that with close to 170 innings, and hopefully I'll get some more here."
Maya actually faced the Mets' Triple-A affiliate on Aug. 27 with Syracuse. He limited Buffalo to an unearned run and two hits in 4 2/3 innings.
Like other Cuban pitchers, Maya -- who was signed for $6.5 million -- invents all kind of breaking pitches from different arm angles. But then he throws a 92 mph power sinker that is challenging, although he actually was missing with that pitch against the Bisons.
"He was tough," ex-Bison Lucas Duda said. "He mixed it up well. We had a tough day. He would flip some [breaking balls] up there. He would take something off. He was savvy out there. That's what made him tough to hit. His curveball was like 70 mph, to I think 65 mph was his lowest radar speed. Different arm angles. Different speeds. Then he was running it up there 90, 92 mph. We saw the radar gun and were like, 'What was that?' You step in the box and he's not throwing slow. He's throwing pretty firm. It was kind of a surprise when you first got up there."
UNFAIR TURN? Barring a late reversal, the Mets are done with September call-ups. The most curious snub: infielder Justin Turner.
Claimed off from the Baltimore Orioles in May, Turner enters Buffalo's season finale on Monday hitting .320 with 10 homers and 34 RBIs in 306 at-bats with the Bisons.
A favorite of Mets special assistant Wayne Krivsky, Turner conceivably could be a factor in the second base competition with Ruben Tejada and Daniel Murphy in 2011 if Luis Castillo is dumped as expected. Or, at the very least, the 25-year-old Turner could provide an inexpensive bench role as a backup middle infielder.
GREEN DAY: Reliever Sean Green had a plane ticket in hand, prepared to join the Mets for a mid-August series in Houston when he was informed of a change of plans at the last moment.
Because it was within 10 days of Green being taken off an injury rehab assignment and officially optioned to the minors, the Mets were prohibited rule-wise from promoting Green unless he was replacing a player placed on the disabled list.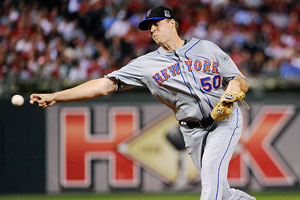 Howard Smith/US Presswire
Sean Green returned to the Mets on Monday. He also has returned to the arm angle he used with the Seattle Mariners.
Because Francisco Rodriguez was being placed on the disqualified list, not the disabled list, Green was barred from the promotion. Instead, Ryota Igarashi -- the player who had filled in for K-Rod during the initial two-day suspension for Rodriguez -- was allowed to be recalled.
The 31-year-old Green is back now, having joined the Mets with outfielder Jesus Feliciano, left-hander Raul Valdes and Gee on Monday. (Nick Evans was promoted Sunday.)
Where does Green fit in terms of his future with the Mets? That's an open question. But there now appears a better chance he is back in 2011 than when he was bypassed for a promotion when his 30-day rehab clock expired last month.
Green, who has a $975,000 salary this season, is arbitration-eligible.
Asked if he wondered about his future with the organization after getting snubbed when the rehab assignment expired, Green said: "It's one of those things. You don't ever know everything that's behind every move. I was happy to be healthy, No. 1."
Green originally was diagnosed with a rib cage strain after making one appearance for the Mets in April. He resumed throwing weeks later in Port St. Lucie, Fla., and still had discomfort. He requested an MRI and a stress fracture of a rib was discovered.
Green has returned to the low three-quarters arm slot that he used when he arrived from the Seattle Mariners with J.J. Putz and Jeremy Reed in the three-team, 12-player trade on Dec. 11, 2008 that also involved the Cleveland Indians. He believes dropping to a Chad Bradford submarine style this year caused the stress fracture.
"I was hoping for two weeks, three weeks. It turned into 4½ months," Green said about his injury-induced absence. "It was a journey, but I'm just glad to be healthy now."
K'O PEC: Johan Santana probably would have been scratched from Tuesday's start even if the Mets were in a pennant race, according to Manuel.
"I still think that we would still have backed off," the manager said. "… I think if we were honest with ourselves, we would still be cautious with him. That might not do us a world of good in that situation with him being hampered."
FOLLICLE FOLLIES: David Wright, commenting on Duda's haircut in Chicago, after which the rookie left fielder snapped an 0-for-10 start to his career: "Apparently his hair was preventing him from hitting." Wright, by the way, is a devout Virginia Tech fan and plans to attend Monday night's game against Boise State. Two of Wright's brothers have attended Virginia Tech. … Jenrry Mejia's next start will be Friday against the Philadelphia Phillies at Citi Field. ... Manuel suggested the Mets may look to give rookie Jon Niese extra rest between starts to curtail his innings count. When it was noted that there's a built-in extra day with Thursday being an off-day, Manuel suggested Niese's usage had not been fully mapped out.