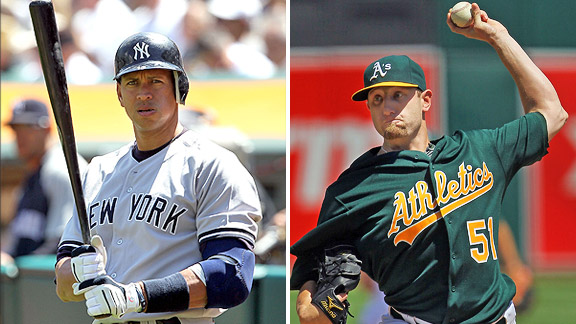 Add Dallas Braden to the list of major leaguers who think Alex Rodriguez is a Hall of Fame bush leaguer. Braden, the starting and winning pitcher in the Oakland Athletics' 4-2 victory over the Yankees on Thursday afternoon, berated the Yankees' third baseman loudly and obscenely for running across the pitcher's mound on his way back to first base after a Robinson Cano foul ball in the sixth inning.
"It wasn't exactly, 'Yes, sir, have a good day," an animated Braden said in the post-game clubhouse. "The guy ran across my mound. He had his foot on my pitching rubber. Any kind of disrespect like that has got to be handled and that's what I did. If my grandmother did what he did, I'd tell her the same thing.''
Asked whether A-Rod apologized when informed of his transgression, Braden said, "What do you think? The guy was tasting himself too long to apologize.''
After Rodriguez, who had singled to reach base with one out in the sixth, returned to first, Braden got Cano to ground into a double play, and then was removed from the game. As he left the mound, he could be seen shouting at A-Rod, and fired his glove at the wall as he arrived in the dugout.
"It's not about me starting anything [with the Yankees],'' Braden said. "It starts and ends with today. Nobody's ever done that to me when I pitched in the big leagues. I had to get my point across in terms of the unwritten rules, the little intricacies of the game, how the game's supposed to be played, how we expect it to be played, how we play it over here, and I did that.''
Braden went on to describe several other A-Rod transgressions, including "the time he was playing jumping jacks or whatever he was trying to do on his way down the first base line," an apparent reference to his attempt to slap the ball out of Red Sox pitcher Bronson Arroyo's glove in Game 6 of the 2004 ALCS.
"It's unfortunate he has to play that way, because the guy has a great talent,'' Braden said.
In the Yankees' clubhouse, A-Rod professed surprise at Braden's remarks. "He just told me to get off his mound,'' Rodriguez said. "I thought it was pretty funny, actually. I'd never quite heard that before, especially from a guy with a handful of wins in his career.''
Responded Braden: "I don't even have a handful of wins. I only have three. Do the math, A-Rod."
Then he threw in the final insult: "He should maybe watch his captain a little more often."
Ouch!